TONKINESE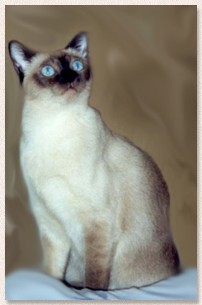 Kinukatz Violetta of Mantra (Viola for chocolate all) and of color mink.
Photo of Mark Natives of Bergamo
GENERAL: the ideal Tonkinese is intermediate in type, neither cobby nor svelte. The Tonkinese should give the overall impression of an alert, active cat with good muscular development. The cat should be surprisingly heavy. While the breed is considered medium in size, balance and proportion are of greater importance.
SUGGESTED BREEDINGS by MENANDPETS.COM
No breeding to signal
if you want to know like signaling yours, contacts: marketing@inseparabile.it
HEAD AND MUZZLE: the head is a modified slightly rounded wedge somewhat longer than it is wide, with high gently planed cheekbones. The muzzle is blunt, as long as it is wide. There is a slight whisker break, gently curved, following the lines of the wedge. There is a slight stop at eye level. In profile the tip of the chin lines with the tip of the nose in the same vertical plane. There is a gentle rise from the tip of the nose to the stop. There is a gentle contour with a slight rise from the nose stop to the forehead. There is a slight convex curve to the forehead.
EARS: alert, medium in size. Oval tips, broad at the base. Ears set as much on the sides of the head as on the top. Hair on the ears very short and close-lying. Leather may show through.
EYES: open almond shape. Slanted along the cheekbones toward the outer edge of the ear. Eyes are proportionate in size to the face.
EYE COLOR: depth, clarity, and brilliance of color preferred. Best seen in natural light.
BODY: torso medium in length, demonstrating well-developed muscular strength without coarseness. The Tonkinese conformation strikes a midpoint between the extremes of long, svelte body types and cobby, compact body types. Balance and proportion are more important than size alone. The abdomen should be taut, well-muscled, and firm.
LEGS and FEET: fairly slim, proportionate in length and bone to the body. Hind legs slightly longer than front. Paws more oval than round. Trim. Toes: five in front and four GO BACK TO LIST.
TAIL: proportionate in length to body. Tapering.
COAT: medium short in length, close-lying, fine, soft and silky, with a lustrous sheen.
BODY COLOR: allowance to be made for lighter body color in young cats, and for less contrast in older cats. With the dilute colors in particular, development of full body color may take up to 16 months. Cats do darken with age.
POINT COLOR: mask, ears, feet, and tail all densely marked, but merging gently into body color. Except in kittens, mask and ears should be connected by tracings. Nose leather color should correspond to the intensity of the point color.
PENALIZE: extreme ranginess or cobbiness. Definite nose break. Round eyes.
DISQUALIFY: yellow eyes in mink colors. White locket or button. Crossed eyes. Tail faults.
TONKINESE COLORS
General Description - Mink colors: body color in the mink colors should be a rich, even, unmarked color, shading almost imperceptibly to a slightly lighter hue on the underparts. There must be a distinct contrast between body color and points. Eye color: aqua, a definitive characteristic of the mink color pattern.

NATURAL MINK: Body: medium brown. Ruddy highlights acceptable. Points: dark brown. Nose leather: dark brown. Paw pads: medium to dark brown (may have a rosy undertone).

CHAMPAGNE MINK: Body: buff-cream to beige. Reddish highlights acceptable. Points: medium brown. Nose leather: cinnamon-brown. Paw pads: cinnamon-pink to cinnamon-brown.

BLUE MINK: Body: soft, blue-gray with warm overtones. Points: slate blue. Nose leather: blue-gray. Paw pads: blue-gray (may have a rosy undertone).

PLATINUM MINK: Body: pale, silvery gray with warm overtones. Not white or cream. Points: frosty gray. Nose leather: lavender-pink to lavender-gray. Paw pads: lavender-pink.

General description - Solid colors: body color in the solid colors may be a slightly lighter shade of the point color, with very little contrast with points. There will be more contrast between points and body color for the champagne solid and platinum solid than for the natural solid and blue solid. Eye color: green to yellow/green.

NATURAL SOLID: Body: sable brown. Points: dark brown. Nose leather: dark brown. Paw pads: medium to dark brown (may have a rosy undertone).

CHAMPAGNE SOLID: Body: golden tan to light coffeebrown. Points: medium brown. Nose leather: cinnamon brown. Paw pads: cinnamon-pink to cinnamon-brown.

BLUE SOLID: Body: slate blue with warm overtones. Points: slate blue. Nose leather: blue-gray. Paw pads: blue-gray (may have a rosy undertone).

PLATINUM SOLID: Body: dove gray. Points: frosty gray. Nose leather: lavender-pink to lavender-gray. Paw pads: lavender-pink.

General Description - Pointed Colors: body color in the pointed colors should be off-white, any shading relative to the point color; overall body color should be in marked contrast to the points. Eye color: blue.

NATURAL POINT: Body: fawn to cream. Points: dark brown. Nose leather: dark brown. Paw pads: medium to dark brown (may have a rosy undertone).

CHAMPAGNE POINT: Body: ivory with buff-tan shading. Points: medium brown. Nose leather: cinnamon-brown. Paw pads: cinnamon-pink to cinnamon-brown.

BLUE POINT: Body: off-white with warm gray shading. Points: slate blue. Nose leather: blue-gray. Paw pads: blue-gray (may have a rosy undertone).

PLATINUM POINT: Body: pearly white. Points: frosty-gray. Nose leather: lavender-pink to lavender-gray. Paw pads: lavender-pink.

above the CFA Breed Standards

after automatic translate from inseparabile.com

HISTORY

The Tonkinese cat is born specifically in 1960 in the United States dAmerica, devout in the New Jersey; Miss Jane Barletta begins to create one new race of cats, intercrossing a cat of Siamese race with a cat of Burmese race, helped from Miss Margaret Conroy, than in Canada where it resided, it made the same thing.

With the time, the subjects been born from these first crossings, were couple to you between of they with lobiettivo creating a definitive standard and the new race was called Tonkinese, that it was recognized officially in the 1979 from the TICA (The International Cat Association) and from the CFA (Cat Fancier Association), the two devout prestigious association feline to the world.

COM' MADE E'

RANSOM: average, pu to weigh from the 2,5 kg to the 5,5 kg

Head: it has the contours rounds off to you, with the nose as soon as bombato with a light one stop, cheeks and zigomi.

ORECCHIE: of medium largeness, wide to the base ovals finish with tips.

Eyes: they are oblique with an exclusive color of the race that goes from the aquamarine to the clear turchese.

Body: proporzionato, with the posterior part a p devout high.

Legs: thin but strong of musculature.

TAIL: long how much the body.

CAPE: short and aim, serico and I polish like that one of the mink, supporter with the body.

Colors: Currently the recognized colors are 4:

Natural/Seal (color body dark tawny tawny-mink and on the tips),

Chocolate/Champagne (color body clear cream-brown and tips of medium tawny color),

Blue (color body clear blue-gray and tips of color intense blue-gray devout slate),

Lilac/Platinum (color body gray ice and clear tips gray).

The Tonkinese pu to be Mink, Point or Solid; the colors sopracita to you remain the same ones, even if come to create themselves of the small differentiations.

Variet:

. Il Tonkinese Mink it possesses the characteristic color of the eyes called marine, characteristic water not present in nobody other race of cats to the way and the tips are less marked with the rest of the body.

. Il Tonkinese Point it has the eyes blue-blueta and the tips are extremely marked regarding the rest of the body.

. Il Tonkinese Solid (or Sepia)ha the eyes green-yellows and the tips of the cape are practically invisibili, much ago to give leffetto of a cat from the homogenous color

CHARACTER

the tonkinese extremely sociable, estroverso and adaptable a cat, characteristic cos detached such to come used in the United States dAmerica in the Pet Therapy. The tonkinese has a personalit intelligent and not adapted to all those persons who have time from dedicargli little or that they expect a calm cat that remains on one chair for hours; it tries in continuation the vicinity of the persons and suffers the solitudine very if it does not come exchanged again.

CURES

It demands a spazzolatura weekly magazine with a horsehair glove in order to always maintain I polish and clean the hair. E' a cat much sturdy one that becomes ill itself difficultly and that it does not introduce ereditabili diseases genetically.

FEEDING

It goes fed with cure without continuous changes in the diet: if it is become accustomed to a mangime of one determined marks and better not varierla without warning. In order to avoid thefts from the table, beyond that for digestive problems, opportune to accustom it to only eat from its ciotola and solo with specific food for cats (to choose and to dose based on its ET and to the weight)

REPRODUCTION

The mother much premurosa and the small are rather premature in the weaning.

The Mark Breeder Natives of Bergamo he has supplied some news in order to construct the card of the Tonkinese Cat

This card be donated gives www.micimiao.it