Small colonial Antozoo of the order of the Alcionacei, family of the Alcyonidi; coming from from the Pacific ocean and the Indian ocean, the Red Mar.

Completely lacking in rigid a skeletal support, it has a tubular shape, a lot lengthened, with one small crown of tentacles; shape large colonies from the typical arboreal shape, ramificata, having carnosa consistency, colored of ivory, beige or marroncino.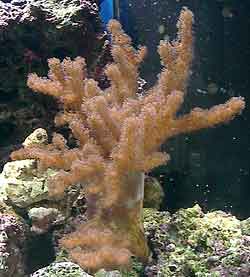 Sessile, the fixed colony saldamente to the substrate by means of an adhesive disc; several the individuals are in great part dipped in the common mesoglea leaving estroflessa only the part finish them, equipped of one stoma encircled from one crown of eight small tentacles, little urticanti and of color marroncino dark.

. In caso di pericolo, i singoli individui si contraggono rapidamente, espellendo l'acqua che li riempie e si ritraggono nella mesoglea pi chiara, in tal modo la colonia cambia di colore schiarendosi.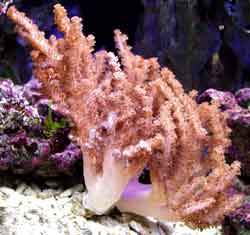 . Molto resistente, adatto all'acquario di barriera in convivenza con altri invertebrati e pesci di piccola o media grandezza, preferibimente Amphiprion, Acanturidi, Pomacentridi, Centropige.

. Preferisce essere sistemato in una forte corrente d'acqua, preferibilmente con moto alternato e momenti di stasi, in maniera tale che si apporti il nutrimento alla colonia ed asportino i prodotti di rifiuto secreti dagli individui; anche preferibile una zona con una fortissima illuminazione, ottenuta con lampade fluorescenti lineari con temperatura di colore 10.000 K ed oltre, oppure con lampade HQI.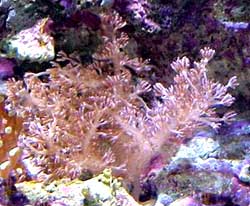 . Si nutre sia dei prodotti delle Zooxantelle presenti nel cenosarco sia di tutto ci di animale che arriva a portata dei tentacoli della colonia, plancton secco, rinvivito in acqua di mare, preferibilmente la stessa dell'acquario, sia plancton, chironomus o artemia surgelati; la colonia, se abbondantemente alimentata, stupisce per la velocit della sua crescita.

. Poco esigente per quanto riguarda i valori chimici e fisici dell'acqua che deve essere ben filtrata, ossigenata nonch priva di nitriti.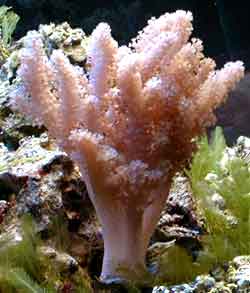 . Soffre inoltre per l'eccessiva presenza di nitrati e fosfati, nel qual caso la colonia appare stentata, stanca, poco propensa a gonfiare completamente i singoli individui; sono quindi consigliabili, in tal caso, cambi dell'acqua con sifonatura del fondo nonch aggiunte regolari di oligoelementi e bioelementi.

. Per tutti questi motivi molto consigliabile per l'acquario di invertebrati del principiante alle sue prime esperienze, ma anche per quello di un pi esperto acquariofilo.