Synnema triflorum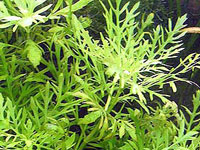 [ sin. Hygrophila difformis ]
Family: Acantacee
Origin: India
Water: 24/28
Ph: neutral
Light : normal school
In the photo: Synnema triflorum


Plant of great decorative effect and from the fast increase.

If cultivated correctly it catches up of the remarkable dimensions that they demand you attend prunings.

Indispensable one constant fertilization also made up of iron.

Profit the spread of CO2.

Plant of easy cultivation.
we thank the situated one www.acquariofacile.it for the realization of this card