WAXWING OF JAPAN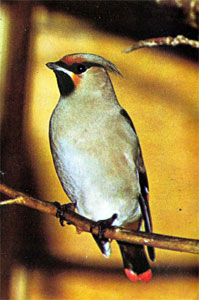 Scientific Name: Japonica Bombycilla
Family: bombicillidae

Dimension: measure 20 cm.
Spread: It nests in Siberia and in Manchuria and only for svernare one os in Japan from which it takes the name.
Behavior: It is distinguished from our waxwing for having the tip of yellow the red tail anzich. It lives above all in the forests of birches feeding itself of bugs, berries and seeds.
It hunts also the mosquitos (most numerous in these regions) in flight.
it constructs to the nest on the tops of the trees using straw, grass, mosses and licheni and it places you from 4 to 7 eggs brooding them for 14 gg.
In Cattivit: It lives well but it goes held in widens voliera with much vegetation.
sopporta enough well the cold.
As feeding we can dargli: a mangime tender for insectivora integrated with bigattini of flies, verdura yields and.
SUGGESTED BREEDINGS by MENANDPETS.COM
No breeding to signal
if you want toknow like signaling yours, contacts: marketing@inseparabile.it
REPRODUCTION in cattivit: not most difficult in large voliere.
Reperibilit: in commerce difficult to find.