PARAKEET FROM THE RED GROPPONE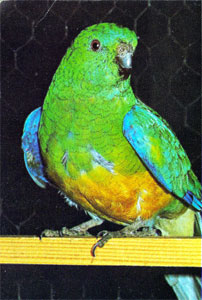 Scientific Name: Psephotus haematonotus
Family: Psittacidae
Sottofamiglia: Psittacinae
Dimension: This long parakeet approximately 27cm
Spread: diffused in Southeastern Australia in steppes but also in the parks publics and the fields it cultivates to you.
Behavior: It lives in brace to the inside of most numerous flocks feeding itself beyond that of bread and verdura seeds also or other alimony that the men leave in the parks, does not go matto for the fruit that a lot often refuses
In Cattivit: It lives well on condition that varied diet integrandogli with fresh food the mangime in commerce with also grattuggiate carrots comes to it regularly guaranteed one.
Like shelter in order to pass to the night serving one prefabbricata small house nest.
SUGGESTED BREEDINGS by MENANDPETS.COM
No breeding to signal
if you want to know like signaling yours, contacts: marketing@inseparabile.it
REPRODUCTION the cattivit: it is reproduced with facilit, placing two times to the year, to the inside of the small house nest 4-7 eggs that then brood with regolarit for approximately 21gg.
Reperibilit: in commerce enough easy to find.