PITTA WITH THE FORELOCK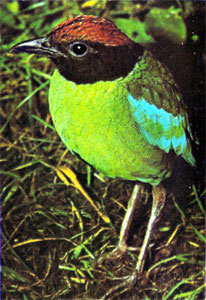 Scientific Name: Pitta Cucullata
Family: Pittidae

Dimension: the pitta from the forelock, than measure 29 cm one of the 15 subspecies of pitta the black head.
Spread: diffused in India where it lives hidden in the underbrush of the forests and the spot
Behavior: It lives solitary or in brace in the period of the loves.
S nutrono practically of all the bugs that succeed to capture in the land not being scorned the small berries and the fruits of the underbrush
It nests in a spherical nest composed of moss, grass and leaves constructed on the land or shrubs, in any case never over the meter of height placing you from 2 to 6 eggs
In Cattivit: It lives well but it goes held in widens voliera with much vegetation and with the pavement in earth on which we will make to grow of the grass.
Sopporta the cold.
As feeding we can dargli: a mangime tender for insectivora integrated with bigattini of flies, camole of the honey, tarme of the flour, pezzettini of hard meat and eggs.
SUGGESTED BREEDINGS by MENANDPETS.COM
No breeding to signal
if you want to know like signaling yours, contacts: marketing@inseparabile.it
REPRODUCTION in cattivit: very rarely succeeded.
Reperibilit: in commerce much difficult one to find.