QUAIL OF CALIFORNIA
Fasianidi, Perdicini, Californica Lophortyx Phasianidae, Perdicinae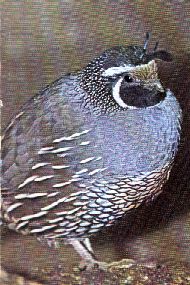 This galliforme in miniatura, much beautiful one, is particularly made to appreciate in one voliera inner or one voliera in garden. It catches up approximately the 24 centimeters, of which 8 had to the tail. The day to the sun passes, feeding itself or taking a bath ' of polvere' in the fine sand. The adults go feed to you with mile, oats, luff and several berries; every so often useful to put to disposition of the quails eggs of ant and tarme of the flour.
SUGGESTED BREEDINGS by MENANDPETS.COM
No breeding to signal
if you want to know like signaling yours, contacts: marketing@inseparabile.it

The female places many eggs in one deep hole, on the land. After the deposition of one egg some thirty opportune to separate the braces.
Poich the female broods very rarely in cattivit necessary to replace it with one gallinella Bantam or dwarf, accustomed to brood and to raise the chicks. Not having this adoptive mother necessary to place eggs in one incubatrice artificial. In this last case heated cage becomes then necessary to place the hardly born chicks in one. The small are born after 22 days of incubation; as soon as been born they go nourished with ant eggs, tarme of the flour spezzettate, hard eggs spappolate, mangime proteico for chicks, tritata ortica, millefoglio, radicchiello, etc.
To nine days of ET the chicks begin to svolazzare and to put down themselves on coppers. To four weeks they are completely independent; this moment possible to somministrare they small seeds. possible to maintain to the quail of California all the winter in one voliera in garden, on condition of proteggerla conveniently from the excessive cold, the umidit and the airflows.
In voliera better to avoid than to make to cohabit other small birds it ornaments them with these quails; these last ones would come excessive mind disturb you during the rest on the posatoi. The female in broods carefully protect from the companion. If it dies, victim as an example of a predator, the male of it takes the place in Cova and the successive breeding of the small.
The eggs are color macchiettate white man cream of tawny In I' nature typical habitat of the quail of the California constituted from the forest of caducifoglie, the mixed forest and the great parks it situates to you on the flanks of hills and in it goes them from the south-west of the Oregon to the peninsula of California.
wild and much mistrustful. The male door on the head a forelock of four piume of dark color. The head of the female instead lacking in this I ornament.