AMERICAN STAFFORDSHIRE TERRIER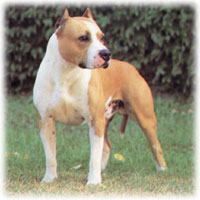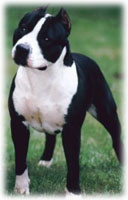 The dogs of the photos are of the breeding De Paco x-z Kenne
FCI-Standard N° 76/ 20. 01. 1998 / GB

ORIGIN : Great Britain.
DATE OF PUBLICATION OF THE ORIGINAL VALID STANDARD : 24.06.1987.
SUGGESTED BREEDINGS by MENANDPETS.COM:
No breeding to signal
if you want to know like signaling yours, contacts: marketing@inseparabile.it
UTILIZATION : Terrier.
CLASSIFICATION F.C.I. : Group 3 Terriers.
Section 3 Bull type Terriers.
Without working trial.
GENERAL APPEARANCE : Smooth-coated, well balanced, of great strength for his size. Muscular, active and agile.
BEHAVIOUR AND TEMPERAMENT : Traditionally of indomitable courage and tenacity. Highly intelligent and affectionate especially with children. Bold, fearless and totally reliable.
HEAD : Short.
CRANIAL REGION :
Skull : Deep through with broad skull.
Stop : Distinct.
FACIAL REGION :
Nose : Black.
Muzzle : Short foreface.
Jaws/Teeth : Jaws strong, teeth large, with a perfect, regular and complete scissor bite, i. e. upper teeth closely overlapping the lower teeth and set square to the jaw.
Lips : Tight and clean.
Cheeks : Very pronounced cheek muscles.
Eyes : Dark preferred but may bear some relation to coat colour. Round, of medium size, and set to look straight ahead. Eye rims dark.
Ears : Rose or half pricked, not large or heavy. Full, drop or pricked ears highly undesirable.
NECK : Muscular, rather short, clean in outline gradually widening towards shoulders.
BODY : Close-coupled.
Topline : Level.
Chest : Wide front, deep brisket, well sprung ribs ; muscular and well defined.
TAIL : Medium length, low set, tapering to a point and carried rather low. Should not curl much and may be likened to an old-fashioned pump handle.
LIMBS
FOREQUARTERS :
Legs straight and well boned, set rather wide apart, showing no weakness at the pasterns, from which point feet turn out a little.
Shoulders : Well laid back.
Elbows : No looseness.
HINDQUARTERS : Well muscled. Legs parallel when viewed from GO BACK TO LIST.
Stifles : Well bent.
Hocks : Well let down.
FEET : Well padded, strong and of medium size. Nails black in solid coloured dogs.
GAIT/ MOVEMENT : Free, powerfull and agile with economy of effort. Legs moving parallel when viewed from front or rear. Discernible drive from hindlegs.
COAT
HAIR : Smooth, short and close.
COLOUR : red, fawn, white, black or blue, or any one of these colours with white. Any shade of brindle or any shade of brindle with white. Black and tan or liver colour highly undesirable.
SIZE AND WEIGHT : Desirable height at withers : 14-16 ins. (35,5 to 40,5 cm), these heights being related to the weights.
Weight : Dogs : 28-38 lbs (12,7-17 kg).
Bitches : 24-34 lbs (11-15,4 kg)
FAULTS : Any departure from the foregoing points should be considered a fault and the seriousness with which the fault should be regarded should be in exact proportion to its degree and its effect upon the health and welfare of the dog.
Any dog clearly showing physical or behavioural abnormalities shall be disqualified.
N.B. : Male animals should have two apparently normal testicles fully descended into the scrotum.
Automati translate from inseparabile.com
ORIGIN:
Its origin laughed them to the nineteenth century in the English region of the Staffordshire where they came intercrosses the Bulldog to you with several Terrier, arriving to obtain a brave and strongly combative dog which exactly the Staffordshire. Exported later on in America, the breeders doltreoceano have supplied to modify of the original physical characteristics remarkablly aumentandogli the head and the weight. Recognized like race to if being, today the Staffordshire large Terrier devout of its English cousins, Staffordshire Bull terrier.
DESCRIPTION:
In spite of lidea of the combat make us to inorridire, we do not have to forget that these exemplary in origin were raise to you just with this scope. When he was fashionable to make to fight the dogs, this race was created above all in order to win. Although the dog devout is not used for this scope, its identit has the characteristics of a dog from combat. Sturdy LAST and must demonstrate it. She must have a musculature very defined but never she must give limpressione of having muscles excessive develops to you, from culturista, must some lack agilit. In a dog very proporzionato, the body has one just harmony. It does not have to seem uninsieme of parts but a single body. Always sullattenti LAST do not have fear and. Its expression makes them must lively, glad, not be bored, afraid or with in broncio! It must be sociable and in a position to behaving itself with ways from gentiluomo.
The American Staffordshire a dog much muscoloso, agile fort and although its sturdy corporatura and imposing. Wide head and with a short snout and of the remarkable jaws has one powerful. The generally erected orecchie are cut, even if this one optional choice: sure the stumped orecchie give to an aspect a lot to it winning. The eyes are round and black. The bite would have to be that classic to scissor. The mantle from the short, and often lucente hair: all the colors are admitted but it must specify that the white man would not have to be present for devout of 80%. The tail ends to tip.
Temperament:
Although it is a brave dog, persistent, combative if provoked, it has however need to be to contact with luomo and in its confronts extension a docile temperament much and affectionate one. LAmerican good Staffordshire of nature and coccolone, joker and a lot attacked to the members of its branco that is its landladies and you respect to you familiar. And bond and patient with the children and the adults. And a dog, like gi said much brave and intelligent one, adapted to the guard also thanks to its imposing presence. Lotter until death in order to defend its owner or the propriet to which it must make the guard and this perch extremely protecting and recognizing towards who wants to it well. And obedient, vital and giocherellone and all the one which wishes to satisfy its landladies. Moreover facilitated in a possible fight, thanks to its high resistance to the physical pain. And a lot important to make to socialize it sin from cucciolo with other dogs and persons: this in order to hold to attends its aggressive instinct making sure cos an able adult dog to control itself in case of rivalit with other dogs. This race has given of turns out to you important like dog guard and moreover turned out to be also a good companion, reliable and always present. If trained properly sar extremely docile.
Problems of health:
These dogs are generally healthy. Only disadvantages for how much regard their health are linsorgenza of hereditary cataracts and to times the possible presence della dysplasia dellanca.
Living conditions:
This race does not need of garden, in fact if correctly trained potr living very well also in apartment, enough great best if. And a dog much assets and preprefers warm climates.
Exercise:
LAmerican Stafforshire Terrier a dog that needs of regular physical exercise. And advised to hold the just exemplary one to leash when door to I take a walk myself in order to avoid disagreeable disadvantages with other dogs.
Longevit:
This race alive until the 10-12 years.
Cures:
Thanks to its and often short mantle this dog does not demand particular efforts for its toelettatura. Baster in fact to brush it regularly with one brush from setole the hard ones in order to eliminate the dead hair. To rerun itself to necessary the single bath if. Passing one pezza of chamois otterr a lucente mantle. This dog does not lose much hair.