FLAT COATED RETRIEVER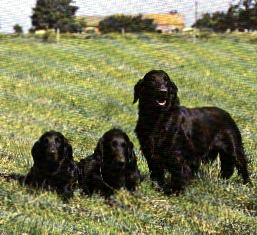 FCI-Standard N° 121 / 29. 01. 1999 / GB
ORIGIN : Great Britain.
DATE OF PUBLICATION OF THE ORIGINAL VALID STANDARD : 08.09.1988.
UTILIZATION : Gundog.
CLASSIFICATION F.C.I. : Group 8 Retrievers-Flushing Dogs- Water Dogs.
Section 1 Retrievers.
With working trial.
GENERAL APPEARANCE : A bright, active dog of medium size with an intelligent expression, showing power without lumber, and raciness without weediness.
BEHAVIOUR / TEMPERAMENT : Generously endowed with natural gundog ability, optimism and friendliness demonstrated by enthusiastic tail action; confident and kindly.
HEAD : Long and nicely moulded.
SUGGESTED BREEDINGS by MENANDPETS.COM:
No breeding to signal
if you want to know like signaling yours, contacts: marketing@inseparabile.it
CRANIAL REGION :
Skull : Flat and moderately broad.
Stop : Slight stop between eyes, in no way accentuated, avoiding a down or dish-faced appearance.
FACIAL REGION :
Nose : Good size, with open nostrils.
Jaws/Teeth : Jaws long and strong, capable of carrying a hare or a pheasant, with a perfect, regular and complete scissor bite, i.e. upper teeth closely overlapping the lower teeth and set square to the jaws. Teeth sound and strong.
Eyes : Medium size, dark brown or hazel, with a very intelligent expression (a round prominent eye highly undesirable). Not obliquely placed.
Ears : Small and well set on, close to side of head.
NECK : Head well set in neck, the latter reasonably long and free from throatiness, symmetrically set and obliquely placed in shoulders, running well into the back to allow for easy seeking of trail.
BODY :
Loin : Short and square. Open couplings highly undesirable.
Chest : Deep and fairly broad, with well defined brisket. Foreribs fairly flat. Body well ribbed up showing a gradual spring and well arched in centre but rather lighter towards quarters.
TAIL : Short, straight and well set on, gaily carried, but never much above level of back.
LIMBS
FOREQUARTERS : Forelegs straight, with bone of good quality throughout.
Elbows : Moving cleanly and evenly on chest.
HINDQUARTERS : Muscular. Should stand true all round.
Stifle : Moderate bend.
Hock : Moderate bend, well let down. Cowhocks highly undesirable.
FEET : Round and strong with toes close and well arched. Soles thick and strong.
GAIT / MOVEMENT : Free and flowing, straight and true as seen from front and rear.
COAT
HAIR : Dense, of fine to medium texture and good quality, as flat as possible. Legs and tail well feathered. Full furnishings on maturity complete the elegance of a good dog.
COLOUR : Black or liver only.
SIZE :
Preferred height: Dogs : 59 -61,5 cm (23-24 ins),
bitches : 56,5-59 cm (22-23 ins).
Preferred weight in hard condition : Dogs: 27-36 kg (60-80 lbs),
Bitches : 25-32 kg (55-70 lbs).
FAULTS : Any departure from the foregoing points should be considered a fault and the seriousness with which the fault should be regarded should be in exact proportion to its degree and its effect upon the health and welfare of the dog.
Any dog clearly showing physical or behavioural abnormalities shall be disqualified.
N.B. : Male animals should have two apparently normal testicles fully descended into the scrotum.
Automatic translate from insparable.com
In a generalized manner
Dog of medium ransom, shining and lively. Its intelligent expression, its power lacking in gravity, the harmony of the shapes and its elegant substance cannot leave indifferent. Equipped for the hunting, kind and allegro with the family, docile and sure of if.
(the ICF n. 122 of the 26 - 8 - 1988)
British Race
General aspect
Dog of medium ransom, lively and active, with intelligent, powerful but not rough, elegant but not light expression.
Characteristics
Much equipping of venatorio instinct; its optimism and its sociability are emphasize you from the continuous enthusiastic movement of the tail.
Temperament
Trusting and docile.
Head and skull
Pleasantly modeled long head and. Flat and moderately wide skull with a light one stop to the height of the eyes, never exaggerated. The nasal cane does not have to be convex n concave. Tartufo very determine the proportions with open narici. Long and strong jaws apt to carry one lepre or a pheasant.
Eyes
Of medium largeness, dark or nocciola brown, with expression much intelligent (round and prominente eye to penalize decidedly). Not in oblique position.
Orecchie
Small, inserted high, very adherent to sides of the head.
Mouth
Strong jaws. Perfect, regular set of teeth with and completes sluice to scissor, is worth to say with recorded to you advanced that leans those inferiors, with the inner face of first that grazes the external face of the second ones; perpendicular teeth to the jaw, regular and strong.
Neck
Head very inserted in the neck that proporzionatamente along and lacking in giogaia, symmetricalally and oblique placed regarding the shoulders; it becomes part well in the log in order to favor the easy search of the trace.
Front
Come down and very wide thorax, with sterno very defined, that it allows a free and melted movement to the elbows. The limbs are straight with good skeleton.
Log
The front part of the flat cost one. The log introduces deep costing, very cerchiato in the center but that it goes gradually flattening itself towards the posterior one. A long kidney (with insufficient muscolosi flanks) to penalize decidedly.
Posterior
Muscoloso. Ginocchia and garretti moderately flessi, these last very near ones the land. Always regular, it observes to you from whichever side. To penalize garretti the vaccine decidedly.
feet
Strong and round with fingers collections and very arch. Thick and sturdy bearings.
Tail
Short, straight, very inserted, capacity gaiamente but never a lot to of over of the dorsal line.
sailing point
Melted and extended, straight and regular it is osseravata front that posteriorly.
Cape
Driven in, of webbing from light to average, good qualit, devout the possible plate. Limbs and tail very frangiati. Frange abundant completes in maturit the elegance of a good subject.
Color
Black or liver.
Weight
Ideal weight of a subject in perfect conditions: Kg. 27-36 for the male, Kg. 25-32 for the female.
Height
Ideal height: males cm. 58; females cm. 56-59.
DEFECTS
All us that discosta from the sopraindicati points it is gone considered a defect, the whose directly proporzionata importance to its gravit.
Famous
The males must completely have two apparently normal testicoli reductions in the scroto.