JAGDTERRIER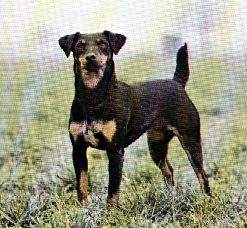 In a generalized manner
Of small ransom, rather rectangular that not square, hunting is underground is over. Equipped of incredible courage, it does not hesitate to enter in the lairs of the vixens or to hurl themselves against the wild boars.
Characteristics
The flat skull, the stop little pronounced, the sturdy snout, a po' devout short of the skull. The ears, to shape of Ve attack to you high, are as soon as it supports to you to sides of the head. The eyes, from the decided expression, are dark, small, ovals and infossati. The strong and straight back, the strong and muscolosi kidney and the rump. All the covered body of hard, driven in, rough and crude hair.
Ransom: the Height goes from 33 to 40 cm, for a weight of 9-10 kg for the males and 7,5-8,5 kg for the females.
Tail: very inserted on the rump, shortened approximately to a third party, sull.orizzontale capacity
Colors: mainly black, or compound of black gray and, or also dark brown, with clear devout focature.
To avoid
. Straight ears, small, too much too much heavy 0 attack to you low
Garretti you vaccinate, limbs incurva you
. . Insufficient or excessive ransom
. Prognatismo, enognatismo
. I recorded to you intercrosses to you or to tenaglia
. . Monorchidismo, criptorchidismo
. Thin and short, lanoso, straight hair
. Eyes clear, large, too much sporgenti
. Colors not admitted .
. Back incurvato or of carpa
. Rolled up, attacked tail too much low
SUGGESTED BREEDINGS by MENANDPETS.COM:
No breeding to signal
if you want to know like signaling yours, contacts: marketing@inseparabile.it
Standard of deutsche the JagdTerrier
General aspect:
The Deutscher Jagdterrier a dog from hunting in surface (is in the forest that in brughiera) and underground; it sights and it perceives to voice on the land, in water, and pure dog from wild track on the wounded one and bringing back for small game. Of small ransom, ideal in citt and automobile; it demands in order much exercise on the land. It possesses a hatred innato for the injurious animals, mistrustful towards the strangers, little subject to diseases.
Head and skull:
Wide the flat skull and devout between the orecchie of that one of the Fox Terrier. Between the eyes it is shrunk and it slipped towards the snout without stop pronounced. The snout a po' devout short of the skull measured from the occipite ones to the stop, and does not have to remember that one of the Levriere.
Snout:
Powerful, with pronounced cheeks. Sturdy jaw, with mento very disegnato.Dentatura much fort, good closing to forbice.Tartufo
Black, tawny dark in the subjects browns.
Eyes:
Dark, small, infossati, with very adherent eyelids, expression decisa.Orecchie
To shape of V, attacked high, small, not too much leggermente adherent to cheeks.
NECK:
Powerful, not too much along, arched and leggermente allargantesi to the junction with the shoulders.
Front:
Long bachelor, tilted; straight, very muscolosi front limbs; metacarpo leggermente tilted; the rather powerful skeleton that sottile.Dorso
Strongly and straight, not just short, kidneys and rump a lot muscolose.Torace
Deep, cerchiato.
Posterior:
Long, very angled and muscolosi limbs posterior. Low Garretti placed and strong skeleton.
FEET:
They do not have to be of cat; those front ones are often devout large of the posterior ones. Son very sluices.
TAIL:
Very inserted in a long rump, capacity devout horizontally that slanted, it does not have to be high capacity.
Hair:
Hard, very adherent, driven in, rough and straight; however n smooth n corto.Colore
The main color the black one, black compound to gray, or also dark with tonalit devout clear, brown-red-yellowish brown to the sopracciglia, the snout, the thorax, on the limbs and around ano.Una dark the clear mask or also are tolerated parimenti. A little white man on the thorax and the fingers admitted.
HEIGHT:
To the garrese comprised between 33 and i 40 cm (n n than less devout ones).
Weight:
In the varied male from 9 to 10 kg, in the female from 7,5 to 8,5 kg.
Defects:
That of it they diminish the value:
tight skull; snout to tip; mento escaping; absence of teeth (ad.eccezione.del third molar); enognate jaws; tartufo clearly, macchiettato; eyes clear, large, too much sporgenti; straight, too much to read, fluctuating orecchie, too much small and inserted low, too much heavy; front straight, with shoulder not sufficiently tilted; insellato back, back of carpa, too much short; tight or too much wide chest; posterior straight, not enough angled; garretto vaccine; posterior arch to botte; rigid sailing point; foot with spread fingers; foot from cat; tail turned upside down in ahead, attacked too much low; fine and shaved hair; lanoso; erected (open); ventre lacking in hair.
That they eliminate from the reproduction:
prognatismo and enognatismo, I recorded to you intercrosses to you or with closing to tenaglia; absence of teeth (except the third molar); hereditary anomalies of the testicoli; ocular anomalies; colors not admitted; excess or insufficient ransom.
Famous:
The males must have the apparently normal testicoli, very reductions in permanent way in the scroto.