AFGHAN HOUND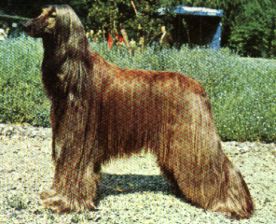 FCI-Standard N° 228 / 22 . 11. 2004 / GB
ORIGIN : Afghanistan.
PATRONAGE : Great Britain.
DATE OF PUBLICATION OF THE ORIGINAL VALID STANDARD : 09.11.2004.
UTILIZATION : Sighthound.
CLASSIFICATION F.C.I. : Group 10 Sighthounds.
Section 1 Long-haired or fringed
Sighthounds.
Without working trial.
GENERAL APPEARANCE : Gives the impression of strength and dignity, combining speed and power. Head held proudly.
BEHAVIOUR / TEMPERAMENT : Eastern or Oriental expression is typical of breed. The Afghan looks at and through one. Dignified and aloof, with a certain keen fierceness.
SUGGESTED BREEDINGS by MENANDPETS.COM:
No breeding to signal
if you want to know like signaling yours, contacts: marketing@inseparabile.it
HEAD :
CRANIAL REGION :
Skull : Long, not too narrow with prominent occiput. Well balanced and mounted by a long « top-knot ».
Stop : Slight.
FACIAL REGION :
Nose : Preferably black, liver permissible in light-coloured dogs.
Muzzle : Long, with punishing jaws.
Jaws/Teeth : Jaws strong, with a perfect, regular and complete scissor bite, i.e. the upper teeth closely overlapping the lower teeth and set square to the jaws. Level bite tolerated.
Eyes : Dark for preference, but golden colour not debarred. Nearly triangular, slanting slightly upwards from inner corner to outer.
Ears : Set low and well back, carried close to head. Covered with long silky hair.
NECK : Long, strong with proud carriage of head.
BODY :
Back : Level, moderate length, well muscled.
Loin : Straight, broad and rather short.
Croup : Falling slightly away to stern. Hipbones rather prominent and wide apart.
Chest : A fair spring of ribs and good depth.
TAIL : Not too short. Set on low with ring at end. Raised when in action. Sparsely feathered.
LIMBS
FOREQUARTERS : Forelegs straight and well boned, straight with shoulder viewed from front.
Shoulders : Long and sloping, set well back, well muscled and strong without being loaded.
Upper arm : Long and sloping.
Elbows : In profile vertically below the withers. Close to rib cage, turning neither in nor out.
Pasterns : Long and springy.
HINDQUARTERS : Powerful. Great length between hip and hock with comparatively short distance between hock and foot.
Stifles : Well bent and well turned.
Dewclaws : May be removed.
FEET : Forefeet strong and very large both in length and breadth, and covered with long, thick hair; toes arched. Pads well down on ground. Hindfeet long, but not quite as broad as forefeet; covered with long thick hair.
GAIT / MOVEMENT : Smooth and springy with a style of high order.
COAT
HAIR : Long and very fine texture on ribs, fore and hindquarters and flanks. In mature dogs from shoulder backwards and along the saddle, hair short and close. Hair long from forehead backwards, with a distinct silky « top-knot ». On foreface hair short. Ears and legs well coated. Pasterns can be bare. Coat must develop naturally.
COLOUR : All colours acceptable.
SIZE : Ideal height : dogs 68-74 cm (27-29 ins); bitches 63-69 cm (25-27 ins).
FAULTS : Any departure from the foregoing points should be considered a fault and the seriousness with which the fault should be regarded should be in exact proportion to its degree and its effect upon the health and welfare of the dog.
Any dog clearly showing physical or behavioural abnormalities shall be disqualified.
N.B. : Male animals should have two apparently normal testicles fully descended into the scrotum.
Automatic transalte from insepaerabile.com
Nazion: Afghanistan.
Origin Dog much ancient, original one of goes them of the Sinai, state devout times name in the egizi papyruses of 5000 years ago and represented in the caverns of the Afghanistan. Remained pure for centuries, of it had been always forbidden l.esportazione, for which been able to only reach in smuggled Europe all.inizio of the nine hundred.
Description Of strong aspect and I alter, powerful and noble, the AFGHAN HOUNDhigh male from 68 to 73cm the female some centimeter in less. It has long, straight, fine head, with leggermente convex skull; nose of black color or liver; powerful jaws; nearly triangular eyes, of dark or golden ink; orecchie capacities erected against the head, covered of long setosi hairs; long and strong neck; final tail to ring, the cape composed from rich setoso hair (short on the back) and a characteristic forelock adorns the skull. All the colors are admitted; devout the common ones are; white man, the fulvo, the black one focato, the tricolour one.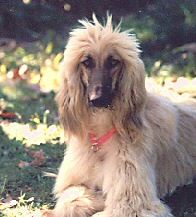 Character Brave, uncontrollable, sweet, sensitive, intelligent, dignitoso but not apathetic, mistrustful with the strangers but not hostile maxim. It has need of being educated with the good ways.
Use Nella its earth d.origine be optimal shepherdesses and a most determined hunter of lupi, jackal, leopardi and even lions. Landed in Europe and America, merit of its extraordinary beauty, become only a dog of lusso, lover of the house and the company of a master.
Notes For the extraordinary serica wealth of its cape be defined the levriero in fur. perci a impegnativo dog that often goes brushed a lot. It knows sopportare the warmth well and it resists with dignit to the cold and the rain. It goes moreover given the possibilit to complete some long unbridled race.
RACE DEMANDED FROM ALEXANDER