SEALYHAM TERRIER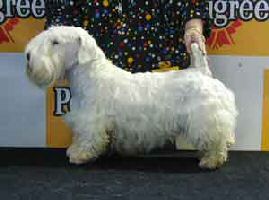 FCI-Standard N°74 / 28. 11. 2003/ GB
ORIGIN : Great Britain.
DATE OF PUBLICATION OF THE ORIGINAL VALID STANDARD : 29.10.2003.
UTILIZATION : Terrier.
CLASSIFICATION F.C.I. : Group 3 Terriers.
Section 2 Small sized Terriers.
Without working trial.
GENERAL APPEARANCE : Free-moving, active, balanced and of great substance in small compass. General outline oblong, not square.
BEHAVIOUR AND TEMPERAMENT : Sturdy, game and workmanlike. Alert and fearless but of friendly disposition.
SUGGESTED BREEDINGS by MENANDPETS.COM:
No breeding to signal
if you want to know like signaling yours, contacts: marketing@inseparabile.it
HEAD
CRANIAL REGION :
Skull : Slightly domed and wide between ears.
FACIAL REGION :
Nose : Black.
Muzzle : Punishing square jaws, powerful and long.
Jaws/Teeth : Teeth level and strong with canines fitting well into each other and long for size of dog. Jaws strong with regular scissor bite, i. e. upper teeth closely overlapping the lower teeth and set square to the jaws.
Cheeks : Cheek bones not protruding.
Eyes : Dark, well set, round, of medium size. Dark, pigmented eyerims preferred but unpigmented tolerated.
Ears : Medium-sized, slightly rounded at tip and carried at side of cheek.
NECK : Fairly long, thick and muscular on well laid shoulders.
BODY : Medium in length, flexible.
Back : Level.
Chest : Broad and deep, well let down between forelegs.
Ribs : Well sprung.
TAIL : Customarily docked.
Docked : Medium length. Thick with a rounded tip. Set in line with back and carried erect. Quarters should protrude beyond set of tail.
Undocked : Medium length of tail to give a general balance to the dog. Thick at root and tapering towards tip. Ideally carried erect, but not excessively over the back, and with no curl or twist. Quarters should protrude beyond set of tail.
LIMBS
FOREQUARTERS : Forelegs short, strong and as straight as possible consistent with chest being well down.
Shoulder : Point of shoulder in line with point of elbow.
Elbow : Should be close to side of chest.
HINDQUARTERS : Notably powerful for size of dog.
Thighs : Deep and muscular.
Stifle : Well bent.
Hocks : Strong, well bent and parallel to each other.
FEET : Round and catlike with thick pads. Feet pointing directly forward.
GAIT / MOVEMENT : Brisk and vigorous with plenty of drive.
COAT
HAIR : Long, hard and wiry topcoat with weather-resistant undercoat.
COLOUR : All white or white with lemon, brown, blue or badger pied markings on head and ears. Much black and heavy ticking undesirable.
SIZE AND WEIGHT :
Height should not exceed 31 cm (12 ins) at shoulder.
Ideal Weight : Dogs approximately : 9 kg (20 lbs),
Bitches approximately : 8,2 kg (18 lbs).
General conformation, overall balance, type and substance are main criteria.
FAULTS : Any departure from the foregoing points should be considered a fault and the seriousness with which the fault should be regarded should be in exact proportion to its degree and its effect upon the health and welfare of the dog.
Any dog clearly showing physical or behavioural abnormalities shall be disqualified.
N.B. : Male animals should have two apparently normal testicles fully descended into the scrotum.
This amended breed standard will become effective from April 2004.
Automatic translate from inseparabile.com
In a generalized manner
The body devout along that high. It is introduced very melted in the movements, proporzionato, active, a lot consisting in spite of the reduced volume. its silhouette comes carved through much sitting of toelettatura that cannot prescind from one stripping to art rule. Fierce, lively and intrepido but of friendly nature, nutre a monodirectional affection in the comparisons of the master. Not instead particularly sociable with its similar ones.
Characteristics
The hard hair of cover, fil of iron ", the sottopelo resistant to the inclemencies. The cupola skull leggermente, wide between the ears. the square, powerful and typically long jaw, the tartufo black. The eyes are dark, round, of medium dimensions. The orecchie are of medium largeness, leggermente rounded off to estremit and the capacities to sides of cheeks. The limbs are short, vigorous, devout possible the rights, compatibly with a thorax very lowered. Entire L particularly sturdy posterior train regarding the ransom. The feet are round, of cat, fortified of thick bearings. The horizontal back.
Ransom: maximum cm 31, for a weight of kg 9 approximately (males) and kg 8,2 approximately (females).
Tail: inserted to level of the dorsal thorn and straight capacity.
Color: unicolore white man or white man with spots color lemon, brown, blue or color rate in head and on the orecchie.
Defects to avoid
. Depigmentato Tartufo
. . Macchiettature black in the cape
. Prognatismo, enognatismo
. Not straight feet

Standard of the Sealyham Terrier

Other names of the past : Pembrokeshire Terrier - Cheshire Terrier
Meaningful dates : 1908 Foundation of the Sealyham Terrier Club
1910 Acknowledgment from part of the Kennel Club
1914 Foundation of the Sealyham Terriers Breeders and Badger Diggin Association


General aspect : melted in the movement, assets, balanced, with great substance in little volume. The lengthened and not squared general aspect.

Characteristics : sturdy, brave with the aspect of a terrier from job.

Temperament : careful, without fear, but of friendly nature.

Head and skull : the wide cupola skull leggermente and between the orecchie. Zigomi not prominenti. Square, powerful, long, able jaws of one good taken. Black Tartufo.

Eyes : dark, very inserted, round, of moderated largeness. The dark palpebral rhymes are from preferring, but they are tolerated also depigmentate.

Orecchie : of medium largeness, leggermente rounded off to estremit and the capacities to sides of cheeks.

Mouth : regular, strong teeth with the well combacianti canines between long they and in connection with the ransom of the dog. Strong jaws with one to regulate closing to scissor, are worth to say with recorded advanced good to you support you to those inferiors and perpendicular to the jaws.

Neck : along, large and muscoloso inserted enough between shoulders very tilted.

Front : short, powerful limbs, devout possible the rights, with the thorax very come down. The tip of the shoulders aligned with the tip of the elbows that to they time must be adherent to the thorax.

Log : of medium length, without sinkings and flexible with ribs very you try. Wide and deep thorax, very come down between the front limbs.

Posterior : remarkablly powerful in relation to the ransom of the dog. Wide and muscolose thighs with the ginocchio very angled. Very angled Garretti strong, tibiotarsiche articulations and to metatarsi between they parallels.

feet : round, from cat, with thick plantari bearings. The feet are revolts decidedly in ahead.

Tail : inserted to level of the back and erected capacity. The tips of buttocks must sporgere regarding the junction of the tail, habitually cut.

Sailing point and movement : lively, vigorous, with much push.

Cape : the external along, hard and rough hair with a sottopelo resistant to the water.

Color : all white man or whiteman with spots on the head and the orecchie color lemon, brown, blue or color rate. Many black and heavy pezzature are undesirable.

Ransom : the ideal weight in the 9 males of Kg. (20 lbs.) and in the females of approximately 8,2 Kg. (18 lbs.). The height does not have to exceed i 31 cm. (12 ins.) to the garrese. The general conformation, the proportions, the type and the substance are the important devout meter of judgment.

DEFECTS : all us that discosta from the sopraelencati points it is gone considered a defect whose directly proporzionata importance to its gravit.

Notes . : i maschi devono avere due testicoli, apparentemente normali, completamente discesi nello scroto.