SPANISH ARABIC ANGLO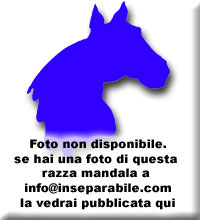 ORIGIN: Spain (Estremadura, Andalusia)
Height: it is gone around around to 1,60 m
CAPE: In bay majority, but also sauro and gray.
Character: E' an intelligent, brave and manageable horse. In many cases it turns out an excellent horse from saddleback, above all in the within of the suit.
Physicist: The long and arch incollatura with a pronounced garrese. The short back, but strongly and door the high tail with noble attitude. The limbs are long and thin.


SUGGESTED BREEDINGS by MENANDPETS.COM