BELGIAN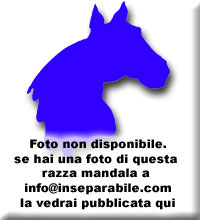 Original of Belgium but diffused E' also in the United States. It has a lively but docile temperament. In the race three variet are distinguished:

. Il Small Belgian high approximately 1,55 of the weight that varies between 500 and 600 Kg., or horse from shooting of the Ardenne, peasant and sobrio. We remember that just Napoleone the utilizz for its exceptional resistance;

SUGGESTED BREEDINGS by MENANDPETS.COM
No breeding to signal
if you want to know like signaling yours, contacts: marketing@inseparabile.it

. Il Medium Belgian high 1,65 of the weight between 600-800 devout heavy Kg.meno and small covers minor importance;

. Il Great Belgian high 1,70 that hung between 800-1000 Kg.di linfatica constitution has a docile and obedient but too much flemmatico temperament.
A long-lived, strong and full horse of volont. The capes go from the bay to the sauro, to devout the frequent roano.
This card be sended to us from Alfeo R.