GO BACK TO LIST
THE CITELLO
Spermophilus citellus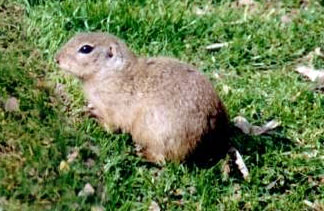 . Il Citello ( Spermophilus citellus ), known also with the name of European Scoiattolo of earth , a diurnal roditore small that lives in steppes of the European east; the only European species of the sort Spermophilus .
Description
Its aspect similar to that one of one scoiattolo and, at the same time, to that one of one beaver. along approximately 20cm and hung between the 200 and 400 gr. an animal much agile one in race and the jump; in the food search (seeds, yield, roots), possible that sure distance from the shelter is moved also to one.

SUGGESTED BREEDINGS by MENANDPETS.COM

No breeding to signal
if you want to know like signaling yours, contacts: marketing@inseparabile.it
Nutrition
Like the scoiattolo, it accumulates large quantit of food in the lair in which it falls in letargo in winter in order then risvegliarsi in spring.
REPRODUCTION
The deliveries happen in open them and May. The cucciolate ones are composed, in average, from three to eight small that, to the birth, are much fragile and completely lacking in fur.
DISTRIBUTION
The areale of the Citello extends in Southeastern Europe, from the south of the Ucraina to the Asia Minor and the Czech Republic and to north until the Polonia