FELL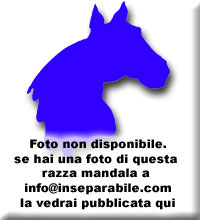 ORIGIN: England (Westmorland, Cumberland)
Height: From 1,30 m to 1,40 m.
CAPE: Devout common the morello, but pu to find also and gray bay. The hairs white men are rare and if they are present on the legs they come quite considers a defect you.
Character: E' pony a much lively and this render it a subject amusing. Moreover its resistance and physical force render it a good animal from saddleback.
Physicist: It has one energetic head and fair, with small orecchie and furnitures. The shoulders are oblique, have one sturdy back and of strong kidneys. The powerful and spiovente rump. The tail very placed and abundant. The limbs are thin and sturdy, it adorns to you with forelocks of hairs to the height of the fetters. It possesses a soft and fast trot, than pu to maintain for various kilometers.

SUGGESTED BREEDINGS by MENANDPETS.COM
No breeding to signal
if you want to know like signaling yours, contacts: marketing@inseparabile.it
History.
Pony the Fell comes down from the western Appennines mounts and mountains of the Cumbria, than they are found in the northern part of England. The breeds that they have given origin to this subject they are the Frisian (from Holland) and pony the Galloway (from the Scozia). These pony have been of great importance in the job of the mining industry. In fact, once that the material came extracted from the sottosuolo, it came loaded in two wide hampers hung to the pack-saddle with these animals that transported to them until to the docks of the port of Tyneside. It obtained great employed esteem also when is like guardiano of the crudes oil of ovines is like horse to attack to small carrozze; it is like horse from saddleback is like excellent trottatore. The curiosit, that it attributes ulterior importance to this pony "to tuttofare", represented from its representation between the "Mountain and Moorland Pony". To this category the breeds can also belong only devout.

This card be sended to us from Alfeo R.