FJORD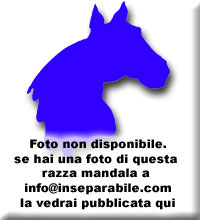 ORIGIN: Norway
Height: From 1,30 m to 1,43 m.
CAPE: The cream are found in all or shadings of falbo, even if generally yellow. It has always the line mulina along the back, sometimes it has zebrature on the legs and thighs. The horsehairs are color silver or black, the always devout part centers them of the dark criniera regarding the outside.
Character: E' an untiring worker. Generous, kind and sociable E'.
Physicist: It has one small elegant head with a wide profile, far eyes and small orecchie. The short incollatura and massiccia, with one little wide shoulder and a hardly pronounced garrese. The massive and short body with one and a fourth posterior one rather very rounded off long back. The limbs are short and adorn to you, to the height of the fetters, from abundant forelocks of hairs. The feet are long and strong.

SUGGESTED BREEDINGS by MENANDPETS.COM
No breeding to signal
if you want to know like signaling yours, contacts: marketing@inseparabile.it
HISTORY
The Fjord one of the least ones breeds that they have maintained own identit the original one. Gi the Vichinghi raised them in order to organize duels between horses. Currently they come raises in all Norway, even if present to you in the other Scandinavian countries, particolar way in Denmark, where its begun export devout of a century makes. E' a pony that it introduces primitive characteristics, with constitution massiccia, that it loves the company very. E' an assistant a lot important in the mountainous regions, than does not allow to be caught up from tractors or truck. Moreover optimal also in order to pull the wagon, to carry cargos on the impraticabili mountain paths, or to be employed like amusing pony from saddleback. In all the duties which subordinate, reveals an untiring worker.

This card be sended to us from Alfeo R.