LUSITANIAN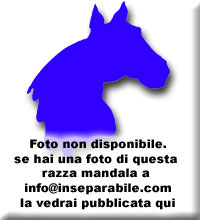 ORIGIN: Portugal.
Height: From 1,52 m to 1,65 m.
ATTITUDES: light saddleback, shooting.
Character: Of remarkable psicofisico equilibrium and energetic temperament.
CAPE: Gray, dark bay or sauro
Physicist: E' a horse of mesomorfo type, has the small head with ganasce pronunciate.La rounded off rump, the tail has the low junction, the limbs are long and solid.

SUGGESTED BREEDINGS by MENANDPETS.COM
No breeding to signal
if you want to know like signaling yours, contacts: marketing@inseparabile.it
HISTORY
Its origins are those of the Andalusian in fact can notice neta the likeness between the two breeds. The difference from the Andalusian is in its uses.
The Lusitanian one, in fact, came used the soldiers in war in order to pull ahead carrozze, but today it takes part to the bullfights. The torero must be much skillful one to let out the horse on which in undamaged saddleback.
This card be sended to us from Alfeo R.