PERUVIAN PASO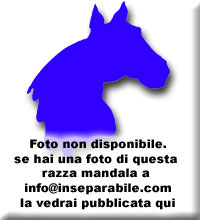 ORIGIN: for
Height: From 1,40 m to 1,52 m.
CAPE: One finds in all the tonalit, with every shading, has one bay and prevalence sauro.
Character: The main characteristic the extreme resistance to the efforts.
Physicist: It has a deep and wide chest, that it contains the strong heart and able lungs. The powerful rump and the sturdy kidneys. The posterior limbs are of one inusitata length, with particularly elastic articulations. Good skeleton has one. The hooves are hard and strong.
SUGGESTED BREEDINGS by MENANDPETS.COM
No breeding to signal
if you want to know like signaling yours, contacts: marketing@inseparabile.it
HISTORY
The paso Peruvian it exists from three hundred years and this explains its strange conformation. He would seem that its ancestors are for three quarters Berbers and fourth Andalusians. Particolarit of the Peruvian Paso the conceived sailing point in order to transport a knight on long distances with minimal effort. The front ones complete a strange movement, while the posterior ones are moved in one long falcata online straight, maintaining to the low rump and the garretti under the body. This movement is similar Ambio that was practiced in the Middle Ages and that today nearly disowned in Europe. This sailing point pu to conserve without hards work also on a difficult land and also much comfortable one for the knight. Moreover it concurs to maintain one velocit equal to 17 kilometers the hour.
This card be sended to us from Alfeo R.