SALERNITANO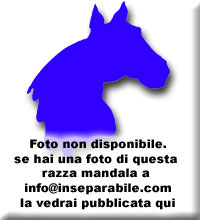 ORIGIN: Campania
Height: from 1,60 m to 1,70 m
CAPE: All the capes with the relative shadings, but with one are found prevalence of the sauro.
Character: Bond, but nevrile. E' a horse much intelligent one and therefore has facilit to learn is in the training before is in the agonistica preparation after.
Physicist: it has a conical head, appears nearly heavy. The powerful incollatura with with dignity found and long garrese. The strong back and finishes with a rump massiccia. The limbs are sturdy and with one corposa musculature. The hooves are wide and solid. Subject draft frauds-comorfo.
SUGGESTED BREEDINGS by MENANDPETS.COM
No breeding to signal
if you want to know like signaling yours, contacts: marketing@inseparabile.it
History.
In second met of the ' 400 Salerno and the Campania boasted breedings of horses from saddleback and for the towing of the carrozze. The reputation of the optimal one qualit of the horses obtained from the breeders made the turn of all Europe. In the course of the centuries the Salernitana race ulteriorly was improved with the contribution of line blood Andalusian and Orients them. This horse used from always in the regiments of Italian Cavalry and, after the end of the First World war, the subjects began to cover an important role in sport field. In fact, in the last few decades, on contest lands some horses of Salernitana race have brought back important victories. Towards the end of the years Forty this line has endured ulterior modifications as a result of the insertion in the breedings of English and Irish fattrici, stalloni English Purosangue. This change has influenced on the characteristics of omogeneit of the Italian breeding, as well as that, to the day today, of obligation to think the Salernitano like one of the breeds of English derivation.
This card be sended to us from Alfeo R.