TENNESSEE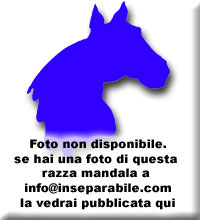 ORIGIN: United States
Height: from 1,50 m to 1,60 m
CAPE: Base is found in all the colors.
Character: Docile volenteroso and much full one, E' good volont in learning.
Physicist: The head does not have particular signs, the neck has a natural arcatura. The wide chest and the shoulder have the particolarit of being oblique. The limbs are hard and dry.
SUGGESTED BREEDINGS by MENANDPETS.COM
No breeding to signal
if you want to know like signaling yours, contacts: marketing@inseparabile.it
History.
It was raised for before the time in XIX the century. The prototype of this race was stallone the Black Allan, than figure also in the genealogia of the Morgan, and that it was a trottatore been born in 1886. The race was founded from the piantatori of the South America that tried to obtain a strong subject and from the soft and melted sailing points. The result was amazing. The Tennessee, in fact, possesses one between devout the comfortable sailing points of the world. This particolarit by now turns out innata and impossible to teach it to others breeds. Some puledri, gi from small, learn it imitating the parents. The particolarit of its sailing point it consists in the fact that the posterior ones exceed the print of the front ones, than raise straight and a lot up. Moreover a sailing point to four times: the struck one of the front one happens before that one of posterior the opposite one in diagonal and this far away touches the ground from 15 to 38 cm devout ones of the front one. The result a sweet and ritmica sailing point. To the day today the Tennessee comes raised in all the America and the better subjects participate to the purposely organized extensions
This card be sended to us from Alfeo R.