BLACK PERSIAN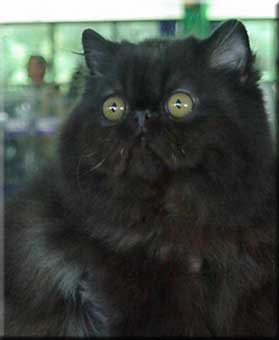 COM' MADE E'
Massive and sturdy cat, with the wide and round head, short nose, small orecchie and large eyes. Original of the Persia, called the prince of the cats for the splendid cape.
The snout does not have to be lengthened and the orecchie not too much near.
Color: black shining, uniform
CAPE: The hair must be folto and completely black, without clear hairs. Abundant, along and (often devout flowing on the neck, legs and tail)
RANSOM: length 40-50 cm devout 25 cm of tail. Height around to i 30 cm
Average life: around to the 15 years SUGGESTED BREEDINGS by MENANDPETS.COM
No breeding to signal
if you want to know like signaling yours, contacts: marketing@inseparabile.it
CHARACTER
E' the classic apartment cat. It has a strong calm and affectionate temperament but. It has need of many cures to the cape and in spring-summer it loses the hair. Sociable E' also with the other cats.
CURES
To brush every day its cape, with particular R-with regard to its tail and to wash it every a lot with shampoo dry. To use not metallic brushes of horsehair and: they ruin the hair
FEEDING
The diet must be varied and equilibrata:carne, fish with the added one of a p of rice and legumi cooked. Bocconcini in scato it, seed-humid food for cats.
REPRODUCTION
The puppys are 2 or 3 for delivery. The maternit it involves problems perch the gattini they are born delicate and they have need of the 4 attentions until life month. Cured the mother during the gestation and after the delivery. This card be donated gives www.micimiao.it