PIXIE BOB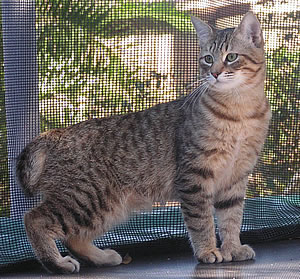 Quadruple Grand Champion Pixie Bob (Rain Dance) alsoomsepixiebob.com
Origins
It has origins in America where at the beginning of 1990 it came selected the razza.La particolarit that it detaches that has the feet polidatti them and cio with a advanced number of fingers the other cats.
SUGGESTED BREEDINGS by MENANDPETS.COM No breeding to signal
if you want to know like signaling yours, contacts: marketing@inseparabile.it
Characteristics
Of great ransom, the sturdy corporatura and the developed musculature, the wide nose, the large head, the infossati eyes, the inside of the orecchie has of the forelocks of pelo.La particularly short tail and the large feet.
The medium or long fur, introduces a maculato design color Brown tabby or with of it points out to the red one. Also having equally intelligent the wild aspect to understand that with its devout landladies the life facile.Il food comes regularly given with one good dose to it of caresses, oltretutto.

OF WHAT IT HAS NEED
Of a comfortable house that receives it without to make it to run too much, its dreaming look renders it cake still devout, sure adapted sedentarie persons.
This card be sended to us from Alfeo R.