Canthigaster Margaritatus or Fish cowling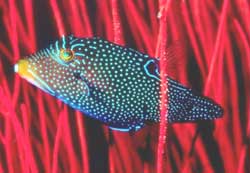 Latin name
Canthigaster Margaritatus or C. Solandri
Common name
Fish cowling
Dimensions
Principle 11 cm. In small Aquarius devout.
Values of the water
Temp. 26/30 Densit 1018/1022 PH 8.4
Small fish pertaining to the family of the Tetraodontidi, present in all Pacific ocean, much sturdy one, adapted to the cohabitation with nearly all the fish of barrier of the others breeds.

Typical body of the sort, to shape of scato it, partially covered from one bony armor, small mouth, in top to a lengthened snout, eyes many furnitures, the tail fin devout servants from counterbalance that for the propulsion; in nature, if scared, its skin pu to emit a mucus velenosissimo, fortunately a much rare case in Aquarius.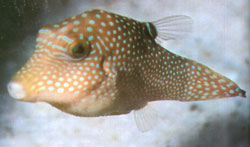 Particularly colored livery, body marroncino rossastro, with one driven in fluorescent turchese puntinatura, a false eye, cerchiato of turchese, to the junction of the dorsal fin.

Difficult to acclimatize, but once very acclimatized onnivoro but much slow one in eating, it preprefers mangime dept freeze, gamberetti or cozze but also mangime dry in grains.
It needs of a medium bathtub, in how much a great swimmer and does not prefer to remain in in the vicinities of the madrepore; it needs very of filtered and aereata water.

Much resistant one to the diseases, is advisable partial changes with sifonatura of the bottom, treatments with ozone and regular additions of oligoelements and vitamins.

Not adapted to the Aquarius with invertebrates in how much if it feeds some very gladly.

Its meats are velenosissime but us not absolutely a problem in Aquarius.