Chiloscyllium Punctatum or crossed Squalo brown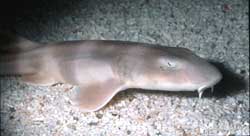 Latin name
Chiloscyllium Punctatum
Common name
Crossed Squalo brown
Dimensions
Principle 130 cm. in nature, small Aquarius devout.
Values of the water
Temp. 26/30 Densit 1018/1022 PH 8.4
Typical squalo from bottom, pertaining to the family of the Hemiscyllidi, coming from from Indonesia, islands of Male baby minders and Padang; much decorative and much sturdy, carnivorous and lively one, without pretensions as far as the conditions chemistries of the water, would be perci indicatissimo for the neophyte if it were not that it grows enormously, also in small Aquarius, and equipped, like all the squali, of a overed-measure appetite.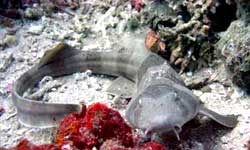 Body from the typical shape of the squali from bottom, increased enough in the ventral zone and of the head, small, fixed, icy eye, mouth in ventral position, supplied of trituratrici rigid plates, with two carnosi wattles, tail fin from the advanced lobe a lot lengthened; colorful livery of rose with clear and dark cross-sectional bands.

From compatible small with nearly all the others breeds but very soon become some the divoratore remaining very soon alone.

Indicated, therefore, only for large special Aquarius, even in company than other fish of equal largeness and appetite.