Equetus Lanceolatus or Pesce to lancere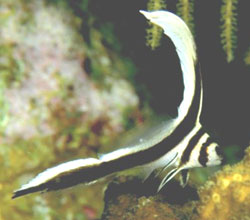 Latin name
Equetus Lanceolatus
Common name
Fish to lancere
Dimensions
Principle 25 cm.
Values of the water
Temp. 28/30 Densit 1018/1022 PH 8,4
Splendid fish, pertaining to the family of the Scianidi, coming from from the Mar of the Caribbeanses; from the shape and the particularly elegant swim.

Body from the elegant shape much and particular one, short, with the back much inarcata, a lot crushed on the flanks, characterized from the fins dorsal and tail enormously lengthened, thin and lengthened ventral fins much, wide mouth.

Particular livery, white woman or giallina, with large black lines that emphasize the strange shape.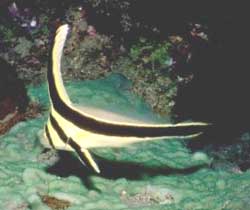 Timid but a lot striking and decorative, without pretensions as far as the conditions chemistries of the water, indicatissimo for the neophyte.

To arrange in small Aquarius with many hiding places and a wide space on the front part in order to swim, in company of equally calm fish and invertebrates.

Compatible E' with nearly all the others breeds and sessili, not with gamberetti or similar invertebrates.

Carnivore, goes nourished exclusively with mangime dept freeze: artemia and chironomus.