Holacanthus juvenile Passer or Fish angel king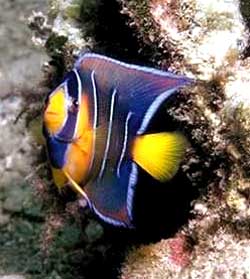 Latin name
Holacanthus juvenile Passer
Common name
Fish angel king
Dimensions
Principle 25 cm.
Values of the water
Temp. 26/30 Densit 1018/1022 PH 8.4
Like also other Pomacantidi, the H. Passer introduces, from young person, one completely various livery from that avr then from adult.

The juvenile livery of this splendid Pomacantide of color orange darkness vanished on the blue or on viola, with some vertical lines, one line white woman and other turchesi, lines to parenthesis shape belt fastener, always yellow or orange tail.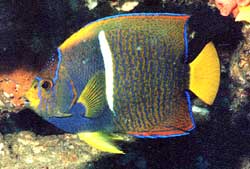 The change of the liveries pu to observe also in Aquarius purch the fish is held in optimal conditions and nourished abundantly with it eats to me deeps freeze to you, artemie and chironomus, it eats buckets in vitaminizzati grains, frozen-dry sfoglie to me of alghe, freschi vegetables, lattuga and spinaci hardly scottati.Una time very acclimatized onnivoro, preprefers mangime in grains or dept freeze, artemie goes up some, chironomus and also leaves of insalata, spinaci bubbled.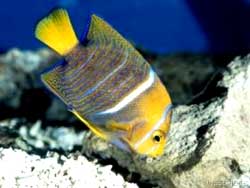 It needs of a medium bathtub with many shelters and hiding places in how much it swims in the pressed ones of the madrepore; with water very filtered and aereata.

Not a lot adapted, from adult, to the Aquarius with invertebrates in how much if it feeds some gladly, not indicated for the bathtub of a principiante to its first experiences.