OSTRACION CUBICUS or Fish scato it to pois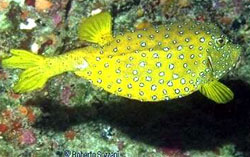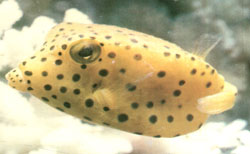 Latin name
OSTRACION CUBICUS
Common name
Fish scato it to pois
Dimensions
Principle 45 cm. In devout Aquarius much small.
Values of the water
Temp. 26/30 Densit 1018/1022 PH 8,4
Large fish pertaining to the family of the Tetraodontidi, coming from from all Pacific ocean and the Red Mar; timid, sturdy, adapted to the cohabitation with nearly all the fish of barrier of the others breeds purch active and not too much fast in eating.

Body completely covered from one bony armor, of shape of parallelepipedo, from which fuoriescono along peduncolo tail, much piece of furniture and the fins; the small mouth, with four large dentale plates, the eyes are many furnitures; one is found beginning from in commerce largeness of 4/5 cm.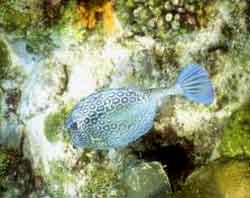 Livery of mostly yellow color, with small dots colors to you, black white men, turchese or; exemplary also of different colors are found: green or turchese.

Much difficult one to acclimatize, would be advisable to acquire exemplary gia perfectly acclimatizes to you; once very acclimatized carnivorous and vorace, it preprefers mangime dept freeze, artemie, chironomus, gamberetti with the shell and cozze, dry chip ax also mangime in grains or frozen-dry.

It needs of a medium bathtub, a great swimmer and does not prefer to remain in the pressed ones of the bottom that searches carefully continuously to the search of the food; it needs of water a lot very filtered and aereata, with the PH constantly to the maximum values.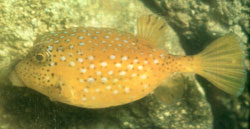 Little resistant to the diseases, it suffers also from the wounds to the skin that very rarely are healed.

They are advisable temperatures high and uniforms, you attend partial changes with sifonatura of the bottom, treatments with ozone and regular additions of oligoelements and vitamins.

Not adapted to the Aquarius with invertebrates in how much if it feeds some very gladly.

Its meats are velenosissime but us not absolutely a problem in Aquarius.