POMACANTHUS ANNULARIS Or EMPEROR From The YELLOW TAIL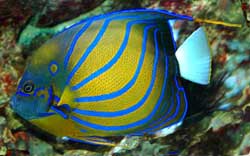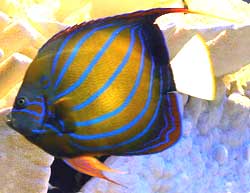 Latin name
POMACANTHUS ANNULARIS
Common name
Emperor from the yellow tail
Dimensions
Principle 30 cm.
Values of the water
Temp. 26/30 Densit 1018/1022 PH 8,4
Large fish pertaining to the family of the Pomacantidi, coming from from all Pacific ocean; much sturdy and colored but little sociable one, adapted to the cohabitation with the fish of barrier of many others breeds but not with the other Pomacantidi.

Body a lot flattened and developed in dorsal and anale height, fins that extend in order nearly all the perimeter, the dorsal fin often finishes with along filament, lengthened ventral fins a lot, the mouth much similar one to the spout of a parrot, moreover, present along prick that extends from the opercolo branchial towards the posterior part of the fish.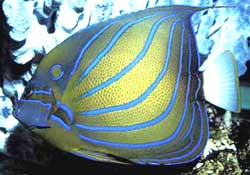 Like many other Pomacantidi, also the P. Annularis introduces from young person a different livery from that one of adult, than much colorful and striking, on a bottom color bronze from the glares metalizes to you, one blue verminatura ignited, iridescente, always present also a blue ring GO BACK TO LIST the eye, yellow tail fin clearly with the edge color gold.

Being initially much frightening much difficult one to acclimatize, he would be therefore advisable to acquire exemplary gi perfectly acclimatizes to you; once very acclimatized onnivoro and vorace, it preprefers mangime dry in large grains and dept freeze, artemie you go up some, chironomus and also gamberetti, frozen-dry sfoglie of alghe, leaves of insalata, spinaci bubbled.

It needs of a medium bathtub, with much acclimatization in how much not a great swimmer but it prefers to remain in the pressed ones of the madrepore, swimming with the ventre turned towards of they independently from the assumed position.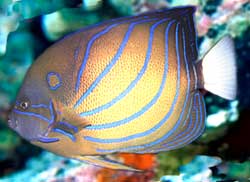 Like for all the Pomacantidi a lot important the qualit of the water that must very be filtered and aereata, with nitrites absent and least nitrates; in the contrary case it loses the shining colors quickly to begin from the snout.

They are many advisable abundant partial changes of the water, with frequent treatments with ozone, sifonatura of the bottom and regular additions of oligoelements and vitamins.

Resistant to the diseases, lively and sturdy, after all an optimal one chosen is for the neophyte, is for the expert acquariofilo.

Not a lot adapted to the Aquarius with invertebrates in how much if it feeds some gladly, especially from adult.