Serranocirrhitus Latus or designed Anthias or Anthias from the large head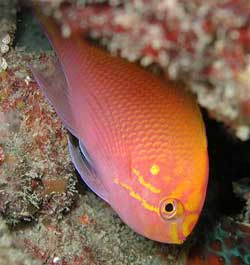 Latin name
SERRANOCIRRHITUS LATUS
Common name
Designed Anthias or Anthias from the large head
Dimensions
Principle 12/15 cm.
Values of the water
Temp. 26/30 Densit 1018/1022 PH 8.4
Likeable fish, definitively classified in the family of the Antiidi, coming from from the western Pacific ocean: island of Tawain, northern Australia and southern Japan; calm, much colored but much timid and delicate one, adapted to the cohabitation with nearly all the fish of barrier of the equally calm others breeds purch.

Fusiform body flattened enough, fins developed chest straps a lot, relatively thin ventral fins lengthened and, fins dorsal and anale appuntite, tail fin with two lobes.

Livery of color red, fucsia or orange, tending to the blue on the ventre and devout clear on the back; squame broadsides of dark; with a yellow design on the snout and around the eye.
Difficult to acclimatize, he would be advisable to acquire exemplary gi perfectly acclimatizes to you; once very acclimatized carnivorous, it preprefers mangime dept freeze, artemie and chironomus and, to times, mangime dry in grains of small diameter.

It needs of one medium or small bathtub, in how much not a great swimmer, with many gorges and hiding places and the light soffusa; it needs of water a lot very filtered and aereata.

Little resistant to the diseases, it suffers also for the presence in the water from knows them of branch; eventual partial changes with sifonatura of the bottom are advisable, attend treatments with ozone and regular additions of oligoelements and vitamins.

A lot adapted the barrier Aquarius, with invertebrates and calm fish.