Acanthophthalmus kuhlii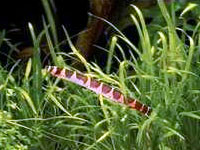 Family: Cobitidi
Origin: Asia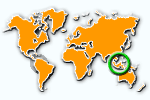 It belongs to the likeable family of cobitidi the this serpentello coming from one from Sumatra, Giava and Borneo.
And of usual inserted in the Aquarius whom they preview to reproduce the biotopo Asian, pu therefore to be raised in capienti bathtubs also not excessive (purch not crowded) in company of Botia, Barbus and others ciprinidi.
It does not have particular requirements in water fact, concurs us to raise it with normal water of tap, mischiata with that from osmosis, so as to to obtain neutral values.
Neanche the temperature a problem, considered that the Acanthophthalmus adapted to values that oscillate between 24 and 29.
Intermediate values are suggested however, also in function of the necessit of the other hosts dellacquario.
This small fish loves a lot to hide under the sand that would have, therefore, to be used like bottom of the bathtub.
Also the gravel to granulometria fine pu to go well.
Woods torbiera and rich vegetation do not have absolutely to lack.
we thank the situated one www.acquariofacile.it for the realization of this card