Aequidens pulcher
Family:
Ciclidi
Origin: South America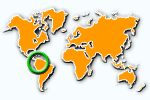 Most elegant ciclide , diffused from the Panama hat to Colombia.
The Aequidens Pulcher is of the pacific fish, even if to times they demonstrate to a sure nervousness that them door to hide GO BACK TO LIST cliffs and roots.
In consideration of their behavioural characteristics, nonch in allarea relation of origin dwarf convene to furnish lacquario with much sturdy vegetation (Anubias barteri), some not limestone cliff, a pair of torbiera roots and I found composed them for 2/3 the most fine silicea sand and 1/3 from quartz gravel from 4/5 milimeter.
Unfortunately a disadvantage that I have found in their breeding that relative allinquinamento dellacqua for effect of the remarkable one quantit of excrements that they produce because of their insatiable appetite.
And opportune to supply to frequent changes dacqua (every week in reason of 20%).
Bench the Aequidens does not have necessit particular, better to maintain lacqua on rather neutral values using 50% than made water of tap to extol in order at least 24 hours with of the biocondizionatore, 50% of water from enriched inverse osmosis with know them mineral and indispensable oligoelements in order to prevent mycosis.
Not sure Lalimentazione a problem, eats truly of all: Pellet (that I use as food freschi base), ribbons, flakes for the Discus, dept freeze, gels and gamberetti (with much parsimony).
Bubbled and frullati carrots seem appreciate a lot also and spinaci.
The temperature of breeding oscillates between 26/27, with a constant movement dellacqua of surface and one good aeration.
A particular signal goes made the leaking system that, to dellelevata organic cargo cause quantit, dovr the most efficient being.
we thank the situated one www.acquariofacile.it for the realization of this card