Aequidens rivulatus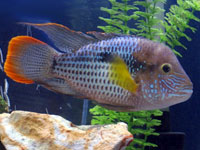 Family:
Ciclidi
Origin: South America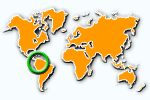 Wonderful ciclide south famous American for its spectacular livery and its character not just pacific.
And a ciclide that it would have to be accommodated, preferibilmente in brace, Aquarius many capienti (at least 150 clean liters), rich of hiding places form from torbiera woods or absolutely not limestone roots of Mangrovia and full of rocks formations to you.
Unfortunately it loves to furnish lacquario that accommodates it just scapito piacimento to of the plants that, bench advised, often come overwhelmed dallirruenza of this ciclide.
LAequidens rivulatus loves neutral water with ph and one temperature of 24/25.
If it is had of a spazioso Aquarius, a brace very brought together and a po R-di.fortuna, pu to assist itself to the reproduction during which these ciclidi give to test of remarkable cures ancestral celebrations.
Lacqua always must be in constant movement and maintained most limpid from a system always leaking in optimal conditions.
we thank the situated one www.acquariofacile.it for the realization of this card