Amphiprion Frenatus or Pesce clown to one strip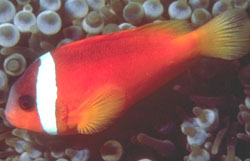 Latin name
Amphiprion Frenatus
Common name
Fish clown to one strip
Dimensions
Principle 10 cm.
Values of the water
Temperature 26/30 Densit 1018/1022 PH 8,4
Likeable nicknamed fish clown, belongs above all to the family of the Amphiprion, coming from from the zone of Filippine and Indonesia, much sturdy one, adapted to the cohabitation with nearly all the fish of barrier of the others breeds but not with other Amphiprion.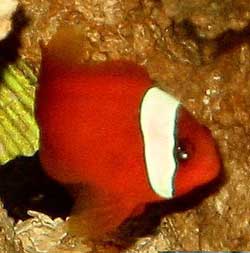 Body a lot flattened, sturdy, livery color red orange, are present two large vertical bands white women; with ET of the fish, the color becomes devout dark, tending to the red one mattone and the bands are reduced to one single, endured GO BACK TO LIST the eye.

Much difficult one to acclimatize in how much, initially, suffers for disturbs to the mucosae, would be therefore advisable to acquire exemplary gi perfectly acclimatizes to you; once very acclimatized onnivoro, it preprefers mangime dry in grains of small diameter and dept freeze, artemie and chironomus.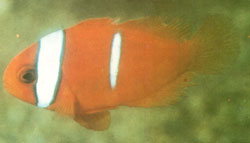 It needs of a relatively small bathtub, in how much a great swimmer and does not prefer to remain in the vicinities of its territory, often centralized on one sea anemone; it needs very of filtered and aereata water.

Enough resistant to the diseases, eventual partial changes with sifonatura of the bottom, treatments with ozone and regular additions of oligoelements and vitamins are however advisable.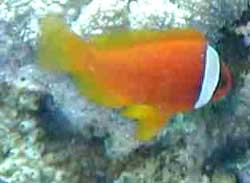 A lot adapted to the Aquarius with invertebrates, often carries out the simbiosi with sea anemones of the sort Radianthus.