Apistogramma pandurorum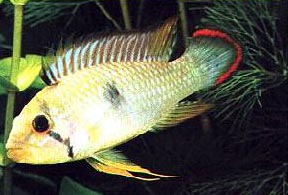 Origin : River Ucayali (For).
RANSOM: Until 7 cm.
Requirements: Tender water, pH 6,0-6,8.
Temperature: 24-27 C
Reproduction: Not difficult.
Behavior: Calm and timid, pu to be raised in a communitarian Aquarius with to other small ciclidi, to prepare the bathtub with much vegetation, woods and it is known not cutting in order to create of the hiding places.
SUGGESTED PET SHOP by MENANDPETS.COM
No Situated Store or to signal
if you want to know like signaling yours, contacts: marketing@inseparabile.it
This card serves to gives the main information to you on this fish and to verify that it is adapted your Aquarius.
if you have of the photos or devout resolutions to realize a complete card for this fish send it to you to info@inseparabile.com, you will see published it here with your your name or the link to situated