Arothron Nigropuntatus or Pesce ball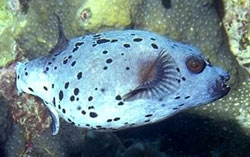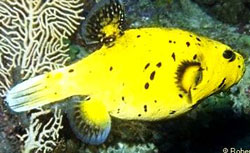 Latin name
Arothron Nigropuntatus
Common name
Fish ball
Dimensions
Principle 40 cm. In devout Aquarius much small.
Values of the water
Temp. 26/30 Densit 1018/1022 PH 8,4
Large fish pertaining to the family of the Tetraodontidi, coming from from the Red Mar, the Pacific ocean and the Indian ocean.

Adapted to the cohabitation with nearly all the fish of barrier of the others breeds purch of dimensions not too much very small.


Body much sturdy one, from the typical shape to clava, armed mouth of four sturdy teeth; fins dorsal, anale and chest straps relatively little developed but many furnitures, tail the devout servants from counterbalance who give propulsion; in fright case the shape of one quickly swallows one large quantit of water assuming ball.

Livery generally of color puntinata cream verdastra of black, to times exemplary of variable color from the yellow to the blue are found.

E' much difficult one to acclimatize in how much much initially frightening one, but once very acclimatized onnivoro and vorace, preprefers large mouthfuls of mangime dept freeze, as gamberetti or cozze but it does not scorn dry in large grains and gamberetti it freezes-dry to you.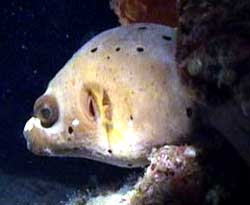 It needs of a medium bathtub, in how much a great swimmer and does not prefer to remain lazy to the center of the Aquarius noticing.

Much resistant one to the diseases, much sturdy one, only needs of water very filtered and aereata.
Great mangiatore, because of its smodato appetite, dirty a lot for which is advisable frequent and abundant partial changes with sifonatura of the bottom, treatments repeated with ozone and regular additions of oligoelements and vitamins.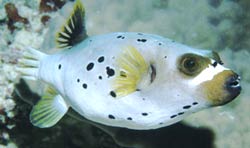 Not adapted to the Aquarius with invertebrates or calm fish in how much if it feeds some very gladly.

Its meats are velenosissime but a lot appreciated in the Asian countries, where causes to every year tremendous massacres to us, but us not absolutely a problem for who raises it in Aquarius.