WRAPPED SQUALO BAMB
( Chiloscyllium punctatum)



family : Hemiscyllidae
DISTRIBUTION : Tropical Hindu-Pacific
SUGGESTED PET SHOP by MENANDPETS.COM
No Situated Store or to signal
if you want to know like signaling yours, contacts: marketing@inseparabile.it
Dimensions : until approximately 110 cm
Description : the esemplarii not mature they introduce a coloration to bands white women and black, the adults instead are of color tawny-gray not always uniform.
REPRODUCTION : ovipara
Habits : species appreciated from the acquariofili in how much adapted much good to the cattivit if very held. It lives in prossimit of I found them sabbiosi and coralline, to lowland profondit. And devout assets during the nocturnal hours during which, in nature, it go huntings of crustaceans and small fish. In Aquarius, when its dimensions increase until approximately 40-50 cm pu dangerous being for all the small eventually less fast present fish and releasing.
Relationships with luomo : innocuous, pu to bite if repeatedly annoyed.
Feeding in Aquarius : small fish, invertebrates navy.
Cures in Aquarius : temperature dellacqua around to i 28 C, a copy of approximately 25 cm needs of one bathtub with minimum 1000 l of water.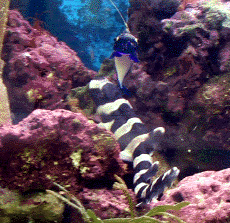 The squali of the sort Chiloscillium if very held they succeed to survive in cattivit also until 25 years.
realized card gives: