Hygrophila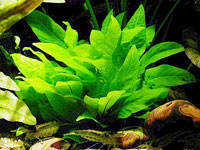 Family: Acantacee
Origin: Asia
Water: 22/24
Ph: neutral
Light: intense
In the photo: Corymbosa Hygrophila
Photo of Maurizio Nicosia



Perennial plant of easy cultivation, easy multiplies for talea or division of cespi.

Constant Luso of CO2 and liquid fertilizations favors the development of bushes many voluminosi.

And indispensable to assure the presence of potassio in water in order avoiding the appearance of ulcerations and loss of the leaves it bases them.

And a plant much generous one that tolerates also the drastic devout prunings.
we thank the situated one www.acquariofacile.it for the realization of this card