GO BACK TO LIST
COMMON RED FISH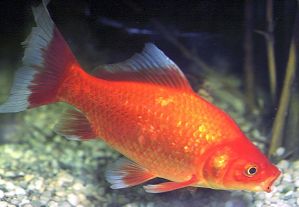 I Red fish feed themselves to all the levels of the bathtub and accept whichever type of food. Their diet, to every way, would have to contain many carbohydrates.
COMMON RED FISH The best coloration than this sturdy fish beautiful arancione.rosso a metallic one without some trace of silver color.
It leggermente has the dorsal fin the much extended to the base and rounded off tail fin and forcuta. Of this species race, famous exists also one like
Shubunkin variet London, colored of blue and with the less iridescenti flakes.
Characteristics
Spread China
Dimensions Until 20 cm
Breeding Easy
FEEDING All the types of food
Sexual Dimorfismo During the riproduttivo period the males introduce wedding tubercoli on the opercoli
Type of reproduction Eggs scattered on the substrate Reproduction in Easy Aquarius
SUGGESTED PET SHOP by MENANDPETS.COM
No Situated Store or to signal
if you want to know like signaling yours, contacts: marketing@inseparabile.it
Breeding
Temperature From 0 to 20
Water does not demand particular conditions
Motilit All the levels of the bathtub
Good Compatibilit