PIAGNONE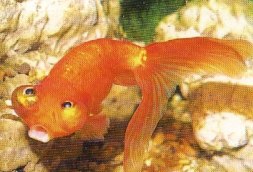 This fish, of metallic orange color, has anale fin and tail reduced and eyes revolts towards l.alto, it lacks dorsal fin. From the moment that it has difficolt to see and to take the food, it would have to be held single with other individuals of the same one variet .
Characteristics
Spread China
Dimensions Until 11cm
FEEDING All the types of food
Sexual Dimorfismo The males introduce wedding tubercoli on the head and the opercoli
; to hold them to the closed one during l.inverno
Reproduction in Aquarius Easy
Type of reproduction Eggs scattered on the substrate
SUGGESTED PET SHOP by MENANDPETS.COM
No Situated Store or to signal
if you want to know like signaling yours, contacts: marketing@inseparabile.it
Breeding
Temperature 8-22
Water does not demand particular conditions; it must be much cleaning up
Motilit All the levels of the bathtub
Single Compatibilit with exemplary of the same one variet.