PORTASPADA
Xiphophorus sp. (hybrid)

Original Poecilide of Mexico and the famous Guatemala with the name of portaspada for the lengthened beam of the typical inferior fin of the males of this species.
Pesciolino a lot winning for its docilit and par the facilit of breeding, pu to be accommodated in Aquarius of reduced dimensions (60/70 clean liters), purch with abundant fluctuating vegetation also.
They are not a lot demanding in order us that it concerns the composition dellacqua (very well goes the normal water of tap dealt with biocondizionatore) purch has ph a not advanced to 7.5 and one temperature comprised between 25 and 26.
Like all the poecilidi, they are ovovivipari and much prolific.
And always useful to isolate the female some day before the delivery in unapposita vaschetta in order to avoid that the small come divorati from the other hosts dellacquario.
To the same scope, I suggest to remove the female endured after the delivery.
And a fish a lot indicated for Aquarius of comunit in company of others poecilidi.
And preferibile to raise devout females in company of every male.
Characteristics
Spread: America Centers Them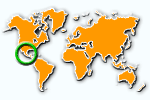 Dimensions: 10cm
Sexual Dimorfismo: The males have "sword" and gonopodio; the females are piu large and with normal anale fin
Breeding: Easy
Feeding: All the types of food; origin food vegetable
Type of reproduction: Vivipara
Reproduction in Aquarius: Easy; one prolific species
SUGGESTED PET SHOP by MENANDPETS.COM
No Situated Store or to signal
if you want to know like signaling yours, contacts: marketing@inseparabile.it
Breeding
Water: Medium values of hardness
Temperature: 24
Compatibilit: Good
Motilit: All the levels of the bathtub
we thank the situated one www.acquariofacile.it in order to have collaborated to the realization of this card