Curly fluitans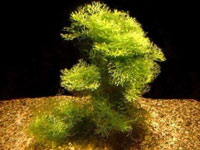 Origin: Europe, Asia
Water: 18/24
Ph: neutral
Light: normal school
In the photo: Curly fluitans



Small floating plant that form of the small heaps in surface.

It is cultivated also tied to knows or woods.

In order to concur the formation of driven in pillows fundamental the presence of CO2 and intense lighting system.

This plant briar-root to the support and therefore necessary periodically not to supply to one binding in order to avoid that the inferior structure of the stalks deperisca.

One constant is recommended pulizia dellacqua in order to avoid that the particles in suspension end in order to berth themselves between the driven in one fogliame, ruining it.
we thank the situated one www.acquariofacile.it for the realization of this card