Tanichthys albonubes
Photo not available if
of it you have one of your subjects sendes it
to info@inseparabile.com
Family: Ciprinidi
Origin: Asia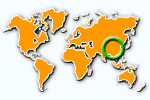 Asian small ciprinide (China) from branco.
Of easiest breeding, particularly indicated for the principiante.
It does not need of particular sagacities as far as the composition dellacqua, than pu to be also leggermente alkaline (not beyond 7,5/8).
The Tanichthys would have to be raises in branches at least 6/8 exemplary to you.
Pacific and tolerant fish, pu to be inserted without difficolt in rich Aquarius of comunit of vegetation and woods of torbiera.
The slanciato male generally devout of the female, even if not always easy to distinguish the two seies.
Adapted also to bathtubs lacking in heating, purch the temperature does not come down under the 15.
Also being of reduced dimensions, it loves wide spaces in order to swim and therefore it would be assicurargli rather long bathtubs (at least 80 cm well).
we thank the situated one www.acquariofacile.it for the realization of this card