GO BACK TO LIST
GRAPTEMYS POURS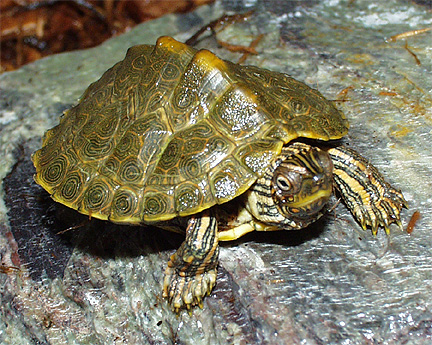 This devout turtle the small of its kind, the measures goes from the 7,5 - 8 cm of i males to i 12 - 15 cm of the females.

SUGGESTED BREEDINGS by MENANDPETS.COM

No breeding to signal
if you want to know like signaling yours, contacts: marketing@inseparabile.it

The original Graptemys Versa of Texas and just pu to find in the water river basin of the river Colorado.

Carapace of color the olive with a intricato design yellow-orange on every scuto. The fairing on scuti vertebral devout the prominente in the small, but in the adults takes one shading of dark yellow color. Piastrone color the cream with the lines of splice of the scuti dark. The body color olive with yellow striature orange.

Paul Donates To You

we thank the situated one TARTAPORTAL http://www.tartaportal.it For the realization of this card.