GO BACK TO LIST
LARGE WHITE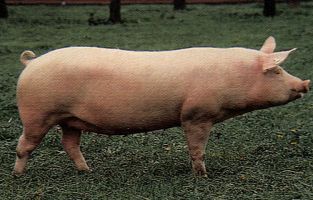 Large White is of suini of great size with setola white woman and rose-colored skin, light head with leggermente concave profile, grugno developed with wide and sturdy jaws, erected orecchie, and neck along, moderately devout muscoloso in the males; log sufficiently along, cylindrical, depressed laterally, with back and lombi long, wide, muscolosi, horizontal and very joins together to you with the garrese; equally muscolosa rump, shoulders and thighs muscolose and found regarding cost and flanks; convex buttocks to form with thighs and muscoloso and come down the rump a prosciutto often,; voluminosi and sporgenti testicoli in the perineale zone in the males; not less than 6 braces than capezzoli; limbs of medium length, in perpendicularly with articulationssturdy and unghielli solid.

From the point of view the Large White contraddistingue for its elevated prolificit (10-11 suinetti works them give birth medium from the scrofe to pluripare) and its detached capacit of increase.

SUGGESTED BREEDINGS by MENANDPETS.COM

No breeding to signal
if you want to know like signaling yours, contacts: marketing@inseparabile.it

_ the selection of the suini Large White have for scope the improvement of the robustness, of the size, of the precocit, of the fertilit, of the prolificit and dellattitudine to the meat (elevate percentage of cut valuable) in order obtain a suino adapt be to the requirement dellindustria salumiera that to the consumption direct.