GERMAN REX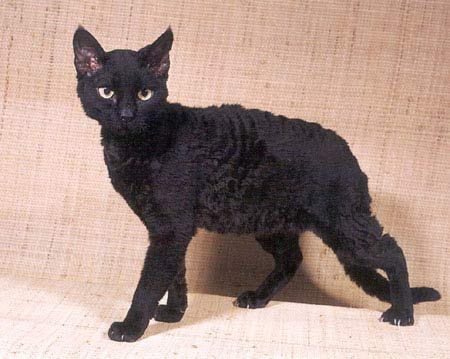 for the photo we thank Julia Franzosi
ORIGINS
Original of the little diffused Germany and, it comes also called the cat from the hair riccio.Non is known well which he is its character, but pu to be associated to that one of the Devon Rex and to uello of the Cornish Rex.

In 1946 nacque the first copy that riusc to maintain the gene that it gave this particular curly hair.

SUGGESTED BREEDINGS by MENANDPETS.COM No breeding to signal
if you want to know like signaling yours, contacts: marketing@inseparabile.it
CHARACTERISTICS
Of medium ransom it has the rounded off chest, the sturdy corporatura, the fine legs and not too much lunghe.La round and wide head, the orecchie are large.
The eyes are anch' great they and very it distances to you, the color recalls that one of the hair. It has the moustaches goffers to you like the hair.
The short and soft fur, pu to have many and varies colors.
The calm, sweet character with the family with lives here, even if independent.
OF WHAT HE HAS NEED
E' an optimal cat of house, has one deep admiration for its landladies. Just for this insegnategli to be in company of all the members of the family without having esclusivit for the master. E' a little delicate one, above all in the winter months; you cover it when the capacities outside house.
This card be sended to us from Alfeo R.