SCOLOPSIS BILINEATUS Or LOUSY FISH ZEBRATO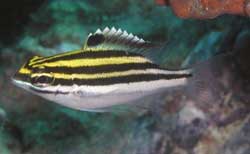 Latin name
SCOLOPSIS BILINEATUS
Common name
Zebrato lousy fish
Dimensions
Principle 20 cm. In Aquarius 8/15 cm.
Values of the water
Temp. 26/30 Densit 1018/1022 PH 8,4
Fish pertaining to the family of the Nemipteridi, coming from from the Red Mar, the Indian ocean and the Pacific ocean; colored, calm and of easy breeding, the other species cohabits with all equally pacific and with the invertebrates to exclusion of the crustaceans, its natural food.

Fusiform body, lengthened, wide mouth, in position advanced, large eyes much with under a small turned bony prick towards the posterior part of the fish; developed dorsal fin, lengthened fins ventral chest straps and.

Livery characterized from two zones, the inferior white woman or silver, advanced black with two yellow horizontal lines, transparent fins with a black point on the front part of the dorsal fin.




Much difficult one to acclimatize, once accustomed to the artificial food onnivoro, preprefers, however, dept freeze and frozen-dry artemie.

It needs much space in order to swim, preferibilmente in branchetti of three or four exemplary.

Resistant to the diseases, eventual partial changes with sifonatura of the bottom, treatments sterilizing with ozone and regular additions of oligoelements and vitamins are however advisable.

Adapted to the Aquarius of barrier with sessili invertebrates and pacific fish, not with the crustaceans.