BOTIA CLOWN
(Botia macracantha)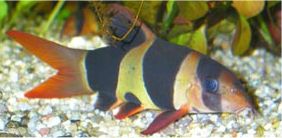 Most elegant indonesiano fish, a lot appreciated for the spectacular livery.
It shares generally lacquario of comunit with ciprinidi and other Asian fish us (Trichogaster), but pu to be held with succeeding also in bathtubs that they accommodate Discus.
Predilige waters rather to hold, ph 6.5/7.5 and one temperature of 27/28.
E' much sensitive to the variations repentine of temperature and ph.
As nearly all the fish of bottom have nocturnal habits, even if mostly not rare to see it during the day.
It loves to remain hidden in the sockets of the log or under the stones that will have to be always smooth, levigate and not limestone.
Nutre mostly of products vegetables in tablets (from bottom), even if it does not scorn the common ones eats to me in ribbons.
And often opportune to hold of various exemplary, less than not to want any to only raise one, so as to to reduce laggressivit infraspecific that manifest between adult individuals.
The sexual dimorfismo not obvious and rather difficult to recognize the seies.
Characteristics
Dimensions 12-13 cm
Spread Southeastern Asia
Sexual Dimorfismo Not obvious
Breeding Enough easy; but sensitive to the ittioftiriasi
FEEDING All the types of food, especially worms
Type of reproduction Disowned
Reproduction in Aquarius Species not still reproduced in Aquarius
SUGGESTED PET SHOP by MENANDPETS.COM
No Situated Store or to signal
if you want to know like signaling yours, contacts: marketing@inseparabile.it
Breeding
Water It does not demand particular conditions when acclimatized
Temperature 24
COMPATIBILIT Good, above all with individuals of the same species
Motilit Inferior levels of the bathtub but, occasionally, also medium levels
Requirements particular Plants; hiding places