CACATOA LEADBEATER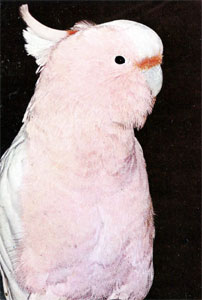 Scientific Name: Kakatoe leadbeateri
Family: Psittacidae
Sottofamiglia: Kakatoeinae
Dimension: From the tip of the spout to the tip of the tail measure approximately 40 Cm. crest erected them) particularly beautiful is distinguished for the forelock of pens (
Spread: In nature alive in desert territories of Australia they centers.
Behavior: She lives in flocks, assembling itself of long preference the water course where trove the seed alimony which nutre -, tuberi, onions and berries.
She nests in cavit of trees placing to the maximum 3 eggs.
SUGGESTED BREEDINGS by MENANDPETS.COM
No breeding to signal
if you want to know like signaling yours, contacts: marketing@inseparabile.it
In Cattivit: It goes fed beyond that with it eats specific also with fruit and verdura to me.
It must fornirgli a large log cable or a small house nest where to pass the night or to repair themselves when it wants to be left single.
And one of the cacatua devout devout large.
REPRODUCTION in cattivit: enough simple if it has to disposition a great voliera and a nest adapted.
Reperibilit: not easy reperibile and it has a rather elevated cost.
Dogs
Cats
MAMMALIAN SMALL
BIRDS
RESISTED THEM
AMPHIBIANS
FISH
moderated water
tropical water
RED FISH
*$52$*
marine water
invertebrates
BOVINES
HORSES
SUINI
GOATS
SHEEP
RABBITS
HENS
DUCKS