ARABIC ANGLO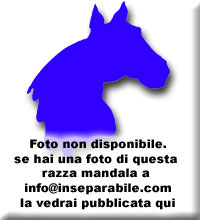 ORIGIN: France, Great Britain and Polonia
Height: from 1,60 m to 1,70 m
CAPE: Bay, dark bay and sauro.
Character: E' a volenteroso, intelligent subject and of good nature. Therefore carried to learn every instruction, it is of jump obstacles is of dressage, with extreme facilit. Brave, moreover lively.
Physicist: The rather delicate head and extension a rectilinear profile with great eyes express to you. The long and arch incollatura. The garrese introduces pronounced with chest and wide shoulders. It has a short and sturdy back that finds its elegance in the tail, high capacity. The limbs are long and thin.

SUGGESTED BREEDINGS by MENANDPETS.COM
No breeding to signal
if you want to know like signaling yours, contacts: marketing@inseparabile.it

History.
The Anglo-Arab, young race devout of the purosangue, developed isolatedly in the various parts of Europe, thanks to the breeders who admired the qualit is of the Arabs is of the purosangue, and wanted to join them. The breedings of the south-west of France and those be them of the Polonia produce optimal subjects. In many cases the obtained subjects turn out great athletes in the race, the jump obstacles and the suit. Moreover the ransom and the conformation of this race of it determine the value for the dressage, the race, the jump, the hunting and the walk, beyond that in the disciplines gi cited. E' a race that is born from the union of two very precise ones and distinguished others: the Arab and the English Purosangue.
This card be sended to us from Alfeo R.